Award-winning jewellery brand Coeur de Lion is looking to support existing customers and fulfil growth plans in the independent jewellery sector through its new partnership with the CMJ. We speak to Nick Green, UK and Ireland Sales Director, to find out more.
1. Can you give a brief background to the Coeur de Lion brand?
Coeur de Lion is a leading German manufacturer of modern designer jewellery, handmade in Germany using premium materials. We have been delighting jewellery lovers all over the world for almost 35 years. The durability of our pieces is the foundation of what we do. Crafting our jewellery meticulously by hand, we use only carefully selected materials such as colourful natural stones of the highest quality or genuine freshwater pearls.
Our headquarters, design atelier and workshop is based in Stuttgart, Germany. Jewellery from Coeur de Lion is available in 30 countries worldwide, sold by 4,000 independent jewellers.
2. How have the past 12 months been for the brand in the UK?
As for many others, Brexit has brought some challenges. But we as a brand have reacted quickly to the new situation. By producing additional stocks we were able to reduce our delivery times and ensure availability of our key lines. We continue to work very closely with our sales team. In the UK we have an excellent team of five, who are great ambassadors for our brand: David Hart in Scotland, Peter O'Loughlin in the North of England, Ann Regan in the South-East and Grant Nicholson in South-West England and the Midlands.
Through their efforts and those of our retail partners, we are looking forward to a strong Christmas this year.
3. How have you had to adapt your ways of working with retailers over lockdowns?
During this challenging time, we were in very close communication with our distributors and agents, who are the primary contacts to our retailers. We strengthened our support to our retail partners through social media, which became the main way to interact with consumers during the lockdown. We provided them with personalised newsletters, as well as product and lifestyle imagery and videos for all social media channels, enabling them to keep customers updated.
4. What do you believe sets Coeur de Lion apart from your competitors?
Coeur de Lion is famous for its timeless and unique design – especially the iconic GEOCUBE® – and for its outstanding quality which guarantees the durability of our products and leads to a very low quality issues.
As each item is handmade in Germany, we have shorter transportation and supply chains meaning lower carbon footprint and a much higher fill rate on orders.
5. What are your best-selling collections?
One of our best-selling collections is the Bauhaus-inspired GEOCUBE®, which was first presented back in 1999 and soon became an iconic design classic. It has been interpreted in new and exciting ways each season since then, displaying fresh colourways and utilising different materials.
Another bestseller is our brand new Pearl Edition. Alongside a growing number of natural stones, we added another precious natural product to our collection for autumn/winter 2021 by presenting our first-ever product line featuring genuine freshwater pearls.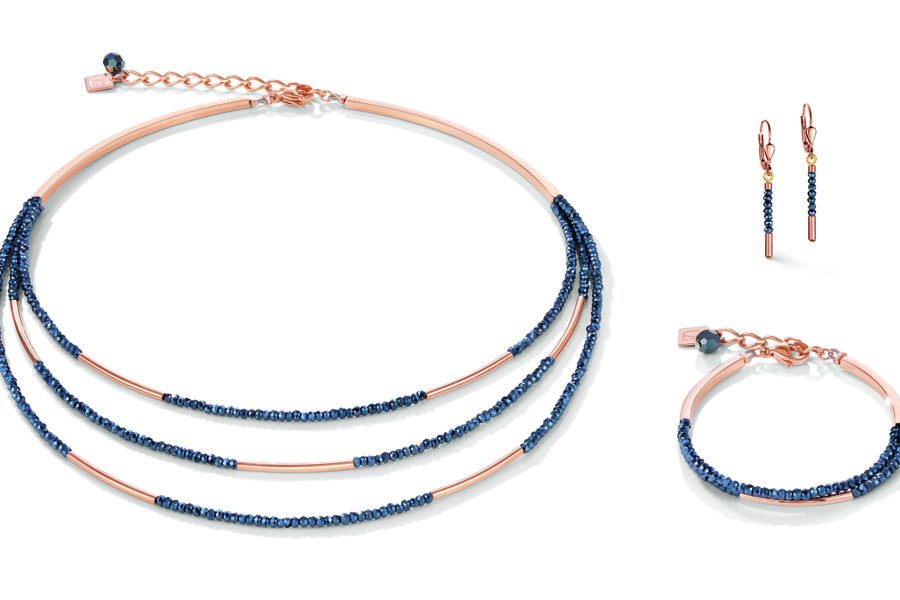 6. What plans do you have for your business in 2022?
In 2022, our plan is to continue to grow our independent retail business. We believe that more recently, the independent retailer is more valued than ever to our consumer. We plan to expand our footprint in the best independent jewellers around the country. We will continue to communicate the unique qualities of the brand to our jewellers and our consumers.
7. Why did Coeur de Lion feel now was the right time to form a partnership with the CMJ? What was the drive and inspiration behind that?
The CMJ offers a great platform to reach out to quality and trusted jewellers. Our partnership with the CMJ will support us in our growth plans and strengthen our relationship with our existing CMJ retail customers.
8. What sorts of retailer partners are you looking to work with?
We aim to work with jewellers that provide a high level of service to their customers. We look for jewellers with the right store environment for Coeur de Lion. For us, it is important that the store can work with us to showcase our our brand's quality and unique design so that we can stand out in store.