To mark International Women's Day on 8 March 2021, we have invited some of the CMJ's inspirational female members to talk about experiences in their careers and the jewellery and watch industry in general. Here we meet Gemma Murphy, business partner of award-winning retailer Jack Murphy Jewellers in Newry, Northern Ireland.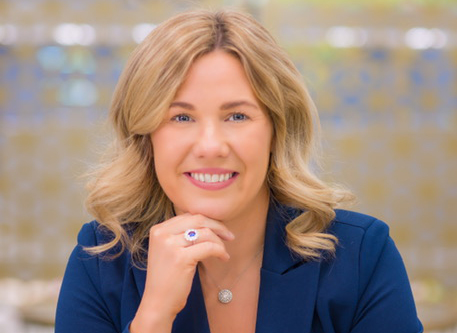 What is your career background?
Having been involved in charity work from a young age, through school my primary interest was social care. This motivated me to study social work at University and spend several years working in a residential care home for teenagers. As this involved long shifts it often gave me free days, when I started to work in the family business. I worked in both jobs for over two years and fell in love with the jewellery trade. When I started in the shop I was managing and looking after social media. Throughout my time in the business my professional development has continued to grow and while pregnant with my second daughter Aoife, I completed my international diamond grading qualification.
I consider myself extremely lucky to have had the opportunity to learn the trade as I worked alongside my father Jack, resulting in a wealth of experience in the diamond industry being passed to the next generation.
As a female business owner, is there anything you have done or want to do in the workplace to support gender equality?
The majority of our staff team are female with the exceptions of my dad and my brother. The business was established as a partnership of both Mum and Dad and continued like that until I became a partner a few years ago. I really believe that we celebrate strong, resilient, intelligent and hard-working women and men in Jack Murphy Jewellers. I am so proud of all the staff because I know only too well that it is not easy to home school, care for relatives and continue to work to an incredibly high standard during a global pandemic.
For me it is important that we continue to invest in our staff. We have recently offered a virtual four-week wellbeing course. For the staff team, the greatest recognition of their hard work was winning Sales Team of the Year 2020 at the Retail Jeweller UK Jewellery Awards. Personally, I was delighted because this accolade let others see the wonderful people that I get to work with each day.
When talking about gender equality in the workplace I have found that the best way to promote equality is not in the theory of mutual understanding and mutual respect. It is much more than that. We really care for each other, help each other, recognise we all have areas of skills and weaknesses and continue to learn together. This means that everyone feels valued because they each know how important we are to each other.
We are all for celebrating women's achievements. What do you consider to be your greatest achievement to date?
As I reflect on this question I feel very proud of many things. I took on a business with no previous business experience but with passion and a willingness to learn. As a result, I have helped our store more than double in size, our team continues to grow and our business is thriving. Despite being closed for a number of months due to the pandemic, 2020 was one of our best years to date.
All of these successes aside the most important thing is that I have done all this while being a wife and mother to my amazing family. They are my motivation. I want to make them proud. Our home life is a little different to the norm; our eldest wonderful daughter Moya is non-verbal and severely autistic, and is not a fan of sleeping. This can be extremely challenging at times. Many days I will come to work having had maybe only two or three hours' sleep. We know she will always need our help and support, even in her adult life. This makes me want to build a strong business so I know that I can always support her and have a strong future for her and her sister.
When Covid hit I felt like most businesses – a case of fight or flight. I knew it would bring many challenges. I knew that if we worked hard from home we could achieve many ideas that have always been put on our never-ending to-do list – things that could make Jack Murphy Jewellers achieve its full potential. We managed a huge amount of work all while trying to juggle home life and home schooling, with no respite or outside support due to restrictions.
Do you have a female role model and how has she influenced/inspired your career?
I never had to look too far to find a female role model. I have an incredible mum. She worked so hard while raising four children and made it look easy! I grew up knowing that a family business was time consuming, but she was always an amazing mother while running the business. My sister Tina has always been there to support me every step of the way and of course the staff team. They welcomed me into the business and taught me all I know about the trade. And there are those who have joined since and help us to continue to grow and develop for the better. In life I have been surrounded by strong women who are inspiring to not just myself but to many.
What would be your one message to other women starting out in their careers now?
It's not about how good you are, it's about how good you want to be. Work hard in all aspects of life and never become complacent. Dream big but realise that to achieve big dreams you have a long journey of small goals. Sometimes there are setbacks but it is crucial to have the resilience to keep going. I love to always think of what will be next, how can I make our business or myself better. Reflecting and evaluating will always keep you honest. You can never just sit back and expect things to happen.
What does International Women's Day and this year's #ChooseToChallenge mean to you?
I believe this theme is very important. In recent years I joined the board for our local chamber – three women joined at that time, so there is now a more balanced gender representation, reflective of the business community. It is important to challenge. The tough conversations are very often worth having. My primary interest in life was charity and social care. In order to improve society, we need to continue to challenge ourselves and those around us. We all want to continue to develop and make the world a better place for the Moyas and Aoifes of this world. That is why I will always #ChooseToChallenge.
You can read more International Women's Day features on our blog. Let us know what you think in the comments section.