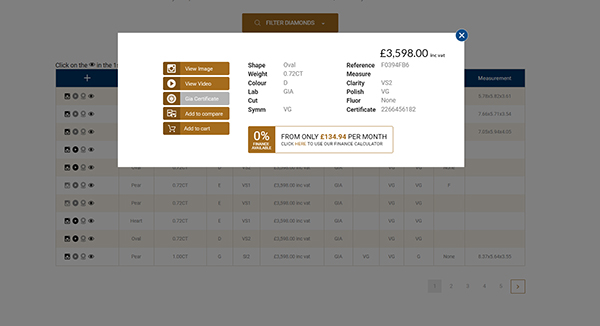 Diamnet has teamed up with retail finance provider V12 to offer market-leading consumer finance tools as part of its white label website package for retailers.
Tools such as a finance calculator shows customers how much they can spend right from a retailer's homepage, with a prominent link to the finance options available displayed at every appropriate opportunity. This provides retailers with an invaluable solution to be able to upsell to consumers on their website.
Owner and founder of Diamnet, Howard Levine, said: "If retailers don't want to lose out on bridal sales, they really need to introduce the tools to compete with the multiples and online retailers. The key benefit of this partnership with V12 is that it enables retailers to upsell just like they would in store – a customer is likely to spend more if they know from the outset the maximum amount they can afford to spend and if they are shown how the cost can be spread across multiple payments."
Diamnet launched its revolutionary retailer white label website package, which will help independent retail jewellers compete with online giants, at the recent CMJ Spring Trade Event. The new consumer-facing sites will make the existing Diamnet diamond list service available to customers, enabling them to compare the retail prices of thousands of diamonds and mounts, and to create their own ring, which can then be bought via the retailer, either online or in store.
The white label sites are branded to each individual jeweller and will run in parallel with a retailer's existing website, offering the consumer a seamless transition between the two sites. By sharing resources across different retailers, Diamnet can offer this service for a fraction of the costs that would be associated if a retailer were to set up a similar service on their own.