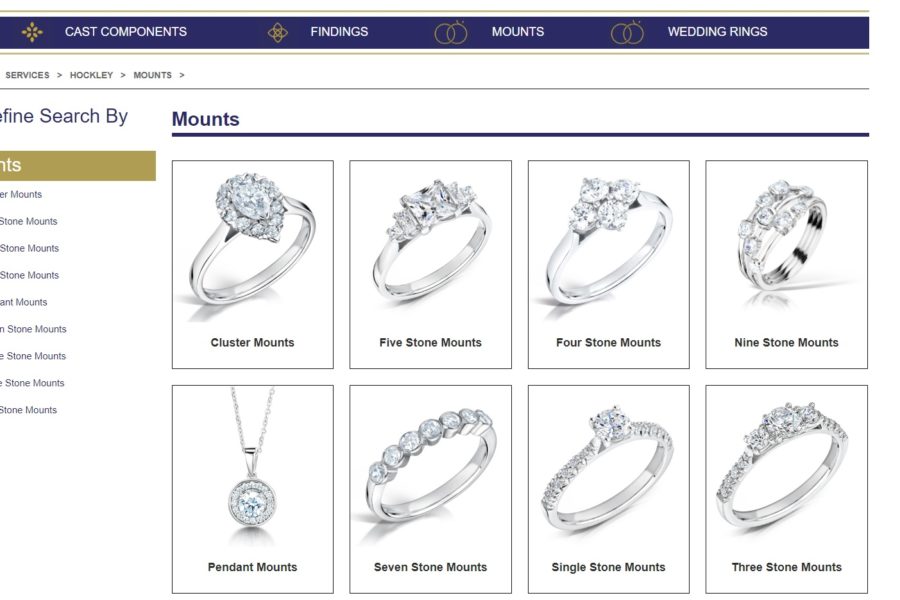 British casting specialist and fine jewellery manufacturer Hockley Mint has completed a significant update to its trade website, ensuring 105,000 products are now available to order online.
The updated Hockley Mint website offers the greatest ever choice to its retail partners and trade customers, with new online tools also added to make the web-ordering process more efficient.
New products added to the website include a range of mounts, new and best-selling wedding bands, an array of cast components and essential findings. Additional metals, including 9K rose gold and Palladium 500, have also been added to the plain wedding ring offering online in response to customer demand.
To improve the ordering process, the Hockley Mint website now allows a unique customer reference to be added to each item purchased. This new feature means customers can streamline administration and assign items to individual bespoke orders.
In addition, customers ordering via the website can make special requests against each item. For example, when ordering a wedding band, customers can request for a diamond-cut pattern to be added or a unique engraving to be made for the end consumer.
This level of personalisation is designed to support retailers and jewellery businesses as they react to the increasing demands and bespoke requirements of their customers.
Hockley Mint managing director, Gary Wroe, says: "Allowing our customers to access our diverse range of products and services online has always been a priority. This recent update of products and digital tools to the Hockley Mint website, our largest ever, makes ordering online easier and more useful for our trade customers. We encourage our customers, both long-standing and new, to access the website and see just how many products are now available to order."
In response to customer feedback, Hockley Mint has also simplified the process of signing-up to its website and creating an online account. Trade access requires unique log-in details, which can now be applied for, approved and delivered within 48-hours provided accurate information is supplied. Once registered, customers can swiftly access all of Hockley Mint's digital services and comprehensive product offer priced for the trade.
Hockley Mint will continue to focus on its digital presence in 2019, with on-going updates to its website and new products added as they are launched.
To register, log-in or find out more about Hockley Mint, please visit hockleymint.co.uk.