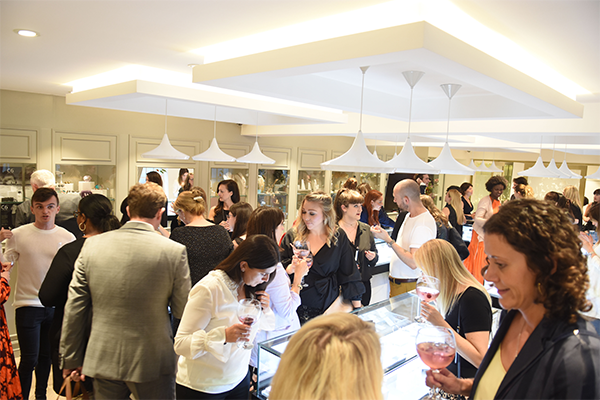 The London Jewellery Showroom, a pop-up designer jewellery showroom that will open on Bond Street for two days during London Fashion Week in February, has secured sponsorship from the National Association of Jewellers (NAJ).
In support of the prestigious event, the NAJ is offering its fine and fashion jewellery brand members the chance to exhibit at the showroom at an exclusive rate. The NAJ will also be hosting a VIP evening reception for invited members on Monday 18 February.
Chief Executive of the NAJ, Simon Forrester said: "This is a wonderful opportunity for the NAJ to shine a spotlight on jewellery during London Fashion Week, when UK and international buyers will be in the capital looking for new designer brands. Sponsoring The London Jewellery Room is one of our strategic aims as an organisation to support and encourage up-and-coming jewellery designers in the UK, and we look forward to welcoming our members to the showroom on the 18th February."
Showcasing new designs from a range of jewellery brands, the London Jewellery Showroom, which will open on 18th and 19th February 2019, is a space for visitors to see and buy designer jewellery in a beautifully curated showroom in Bond Street. The London Jewellery Showroom is also working exclusively with media partner The Sunday Times Style Magazine, who will be bringing 100 VIP subscribers to shop in style at an exclusive champagne reception on Tuesday 19 February.
International fine jewellery brands flying into London to join a selection of the UK's hottest new fine and fashion jewellery brands include Sarah Zhuang Fine Jewellery from Hong Kong, Jewels of Queensland from Australia and Maria Kotsoni from Cyprus, while award winning London designer Sian Evans will be hosting an interactive jewellery design workshop.
A series of masterclasses will be held at the event, within the stunning John Pye Luxury Assets Showroom on Old Bond Street, including seminars from jewellery and gemstone experts who will be speaking on a range of subjects, from gemmology to fashion trends. The Fairtrade Foundation will also be exhibiting a selection of Fair Trade Gold jewellery from brands including Cred Jewellery and Natalie Perry Jewellery.
The London Jewellery Showroom is hosted by award-winning jewellery specialist agency FACETS and will be open to the general public, with VIP receptions scheduled for press and buyers.
Limited spaces to exhibit are still available. For more information on exhibiting at or attending the event, please contact Sarah Carpin on sarah.carpin@facetspr.com.