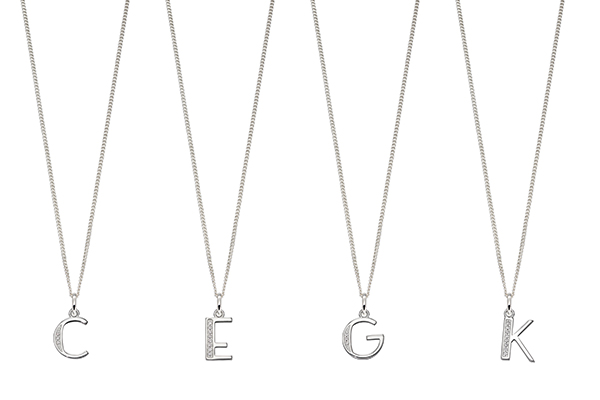 Gecko Jewellery has announced that they will be launching their new range, titled 'Alphabet', at Jewellery & Watch in February. The new range of pendants will be available in sterling silver with cubic zirconia accents, and feature the 26 letters of the alphabet.
The new range will be sold to retailers at a kit price of £190 wholesale, which includes all 26 pendents on sterling silver chains at 41-46cm/16-18", and a point of sale unit that features key product imagery, to display the range on.
Alphabet was created in response to the continuing personalisation trend and follows the huge success of Gecko's Birthstones range which launched in spring this year. The pendant collection features unique art-deco style lettering, beautifully accented with delicate pave CZ stones and was designed in-house by the Gecko design team.
Alphabet is an excellent, low price point solution for a range of gifting options, from birthdays to everyday wear to ad-hoc self-gifting. Alphabet can be stacked with multiple letters; it can also be mixed with the Birthstones range to further personalise the set. If mixed with the Birthstones range, customers can also take advantage of Gecko Jewellery's free engraving service, which adds a further level of personalisation.
Creative Director, Desiree Pringle, commented on the range: "Alphabet responds to the continuing consumer demand for personalisation, providing retailers with an easy option that also complements our existing, popular Birthstones range. We have created a very compelling product package with all 26 beautiful art-deco letters available in a contemporary point-of-sale unit, available at a very low price point. This is a range that has been designed to sell quickly and easily. We want to provide retailers with as much confidence as possible that the ranges they buy into are going to sell. We are constantly reviewing the market to understand consumer demand and appetite. We've seen the resurgence in popularity of initials and, coupled with low retail price points and considered styling, we're confident this range will join our existing best sellers."