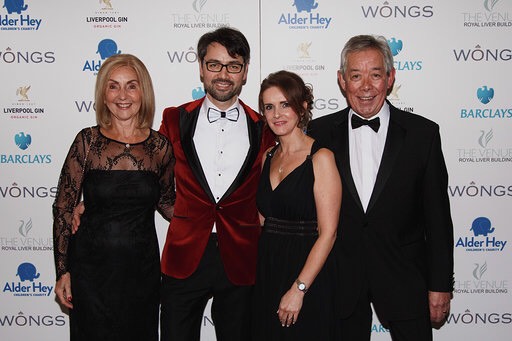 Local fine jewellers Wongs raised £29,100 for Alder Hey Children's Charity at their third annual Winter Ball, taking the grand total raised to £121,389 over the last three years. The prestigious event location was donated by the Royal Liver Building venue in what has become a treasured tradition for The Venue.
The third annual ball welcomed 200 guests for a night of fine dining and entertainment on Wednesday 5th December 2018 with Radio City Host Simon Ross 'Rossy' being the compare for the evening.
Special guests included Nadine Mulkerrin and Rory Douglas-Speed, Hollyoaks on and off screen couple. James Sutton ex Hollyoaks favourite and George Mathias, Pride of Britain award winner were treated to a Liverpool Gin sponsored drinks reception.
Wongs Jewellers have been designing and creating bespoke jewellery in Liverpool for more than 50 years.
CMJ board member Phil Ainsworth commented about the night: "A fabulous evening to get us into the festive spirit! Well organised by the Wong Family and their team, raising money for a worthwhile cause which has such a special meaning for the family."
Peter Wong, the Managing Director of Wongs Jewellers, said: "The third annual ball has been an incredible success and we have once again raised an amazing amount of money for Alder Hey Children's Charity.
"The service the charity and the hospital provide is much needed and it's heart-breaking but also uplifting to hear some of the stories about what they do. The charity is very close to our hearts after the Alder Centre supported our family through the loss of my brother David back in 1995.''
"On behalf of Wongs, I would like to thank everybody who came to The Venue for the ball and donated to the charity. The event has become something we all look forward to each year and it's become a key calendar event – 2019 is set to be bigger and better than ever."
"Lynn Hitchen, acting chief executive of Alder Hey Children's Charity, added: "This is the third year that Wongs Jewellers have organised the most spectacular event in support of Alder Hey and this year in particular, the work of The Alder Centre.
"We recognise the sheer amount of hard work and effort that goes into an evening like this and we are extremely grateful and privileged to be a part of this partnership.
"We are overwhelmed by the generosity and support from all of the guests and would like to say a huge thank you to everyone who made the event such a success.
"The money raised will support the development of our new bereavement suite, The Alder Centre, which will go on to support many families through some of their most difficult times. It will be a safe place where they can meet new friends and in the words of the families "learn to live again" after the loss of a child. The support from Wongs Jewellers is invaluable and will continue to help the lives of our families for years to come."