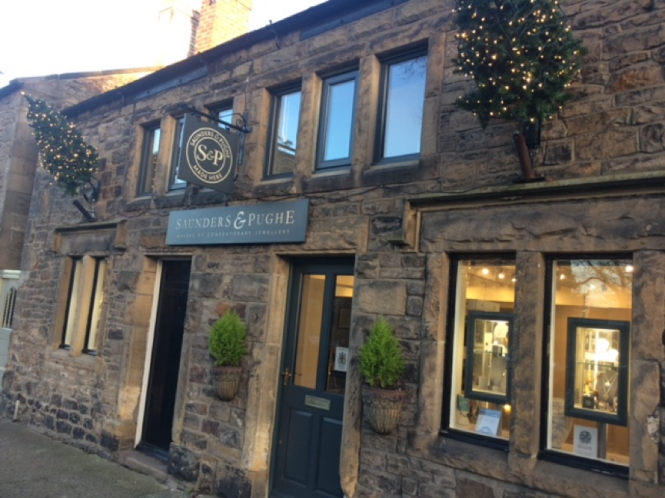 Corbridge-based Saunders & Pughe Goldsmiths is the latest independent jeweller to join the Company of Master Jewellers (CMJ).
Saunders & Pughe Goldsmiths was established just over 19 years ago by husband and wife team, Marianne Saunders and Robert Pughe. The business is based in a beautiful 16th century Grade II listed house in the heart of the historic Roman settlement village of Corbridge in Northumberland. Saunders and Pughe specialise in fine jewellery with rare precious gemstones and high quality diamonds as well as an extensive selection of in-house made silver and 9ct jewellery and a designer collections area. They also offer a bespoke commissioning service and specialist services such as valuations and repairs.
Marianne and Rob met after completing their university training, whilst on a business fellowship in the Birmingham Jewellery Quarter. They relocated to Northumberland with their successful wholesale manufacturing business and opened the shop in November 2000. Marianne holds an honours degree in 3D design, a Professional Jewellers Diploma and a DGA and specialises in gemmology and diamonds, Robert is a renowned skilled goldsmith who has recently trained in computer-aided design and manufacturing.
Commenting on the decision to join CMJ, managing director Marianne Pughe said: "We feel that we have been quietly working away for the past 20 years to bring beautiful hand made jewellery and exceptional service to our customers, now we would like to strengthen our position as one of the North East's premier stores for fine and contemporary designer jewellery. We relish the opportunity to network with like-minded businesses across the UK. Being a CMJ member signals that we have established ourselves amongst an exclusive group of Britain's top jewellery retailers and manufacturers."
Company of Master Jeweller's director of business development and marketing, Lucy Reece-Raybould added: "We are delighted to welcome Marianne and Rob and their dedicated team from Saunders and Pughe to the group, they're a great fit for the CMJ. We know they're really going to benefit from being a member as they are looking to network with other like-minded independent retailers and stay abreast of the latest industry news and trends. As well as getting access to an unprecedented range of suppliers offering exclusive terms, being part of CMJ will raise their business profile and provide an invaluable range of business support to Marianne and Rob."