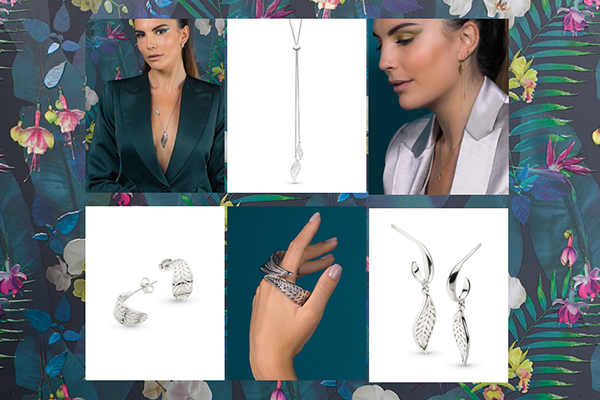 Award winning British sterling silver jewellery designer has seen its AW18 collection launch with unprecedented success.
The launch predominantly consists of two brand new collections  exclusively available in rhodium plate and 18ct yellow gold plate, responding to the demi-fine look. Katie Nickell, co-founder and creative director says, "The response so far has been fantastic — investing in rhodium and 18ct gold plate might be seen as a high risk strategy for a sterling silver company, but it is one that judging the reaction we will look forward to exploring further."
The tropical paradise inspired Eden — with its modern, twisting leaf design forms an exotic dreamscape — launched to market in August and has already seen an uptake of nearly 100% from both existing and new accounts. Riding on the strength and intricacy of the design, its seen the company's first foray into rhodium plate meet with positive feedback and optimism from the trade.
Principally known for its designer sterling silver, this is Kit Heath's first time creating pieces with rhodium plate specifically in mind. "As the designs took shape, it was clear that the detail really lent itself to the cooler, statement look of rhodium plate. It adds another dynamic and depth to our offer and makes our overall offering more diverse than ever."
Eden is designed to be layered and worn in new and creative ways. "The emphasis throughout the development process has been on mixing and matching, with new, unique profiles adding variety and versatility to the established collections, giving wearers an opportunity to create their own personalised look," explains Nickell.
"Kit Heath is all about wearability — we bring trend elements into our designs, giving them our own spin and interpretation," Nickell adds. "We know who our customer is. Our customers want newness and they want design that stays fresh — this is the greatest challenge we face when developing new collections and one that we wholeheartedly embrace. You might not find ear-cuffs in our collection but you will find studs fashioned in a huggy style, embracing and emulating the trend in a far more wearable style."
Eden and the AW18 collection is available now to stockists through the recently re-launched B2B website.