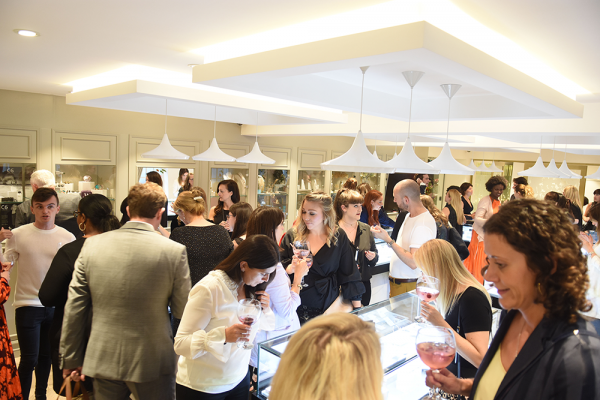 The debut Jewellery Cut Showroom at London Fashion Week took place in Bond Street to showcase a range of designer fine and fashion jewellery brands, along with a range of jewellery masterclasses and a VIP launch party. The ticketed event, which drew over 300 visitors over the two days, was open to press, buyers and general public, offering jewellery on sale with special showroom prices and offers.
Speaking at the showroom Rachael Taylor, editorial director, The Jewellery Cut said: "Jewellery doesn't get much love during London Fashion Week, and we're glad that this is something we've managed to change this season with a bustling The Jewellery Cut Showroom that drew in a strong crowd of industry professionals and interested consumers who wanted to learn more about, and buy, jewels. This hybrid approach has helped the designers taking part to tick multiple boxes with one event, which is so important in an age when money and time pressures are so intense.
And from the consumers' perspective, the Showroom was an opportunity to learn about some of the highly creative, diverse jewellers we have here in the UK and to purchase quality jewels that you won't find on the high street. A new jewellery event that has the energy to inspire and educate consumers has been long overdue, and we feel that The Jewellery Cut Showroom has been the perfect experience for jewellery lovers who are ready to do more than just like a picture of a ring on Instagram. We look forward to running regular Showrooms and events throughout the year to complement our digital presence."
Jewellery brands and designers who took part in the event and displayed their new collections in the showroom, hosted by jewellery specialist agency FACETS, included Spanish fashion jewellery brand Uno de 50, Sarah Zhuang Jewellery from Hong Kong, C6 by Anne Cohen from Denmark and Icelandic jewellery brand Aurum by Guðbjörg. UK brands taking part included Clogau, GFG Jewellery, ethical jewellers Eden Diodati, Untold and Natalie Perry Jewellery, as well as emerging designer brands Lemuria Jewels, Olivia & Pearl, AS by Akansha, Aureliean, Phine London and Satta Matturi.
While Olivia Smith of Olivia & Pearl said: "I was delighted to be part of The Jewellery Cut Showroom hosted by FACETS. Not only did I have the opportunity to meet with key press and industry buyers but also grow my customer base connecting with invited consumers and jewellery enthusiasts. A fantastic two days of jewellery and fashion. I'm looking forward to next seasons event already."
On Monday evening a cocktail reception sponsored by John Pye Luxury Assets Auctions, Scavi and Ray Prosecco, Schweppes mixers and Clogau, hosted over 100 VIP guests that included leading jewellery designers Stephen Webster, Shaun Leane, Vicki Sarge, Liz Olver and Thomas Donocik sipping special edition Clogau reserve gin and Schweppes tonic to toast the launch of The Jewellery Cut.
Tickets for the jewellery masterclasses sold out well in advance, with members of the public and students of jewellery attending talks by antique and vintage jewellery expert Joanna Hardy, jewellery trend expert and author Vivienne Becker, presenting the latest Swarovski gemstone trends. Other masterclasses were held by diamond expert Lisa Levinson, fashion jewellery designer Vicki Sarge and head designer of Annoushka Jewellery Liz Olver.
"The combination of jewellery masterclasses with evening cocktail events and the chance to see new jewellery collections and meet the designers throughout the day was a winning combination," said Sarah Carpin, director of jewellery specialist agency FACETS.