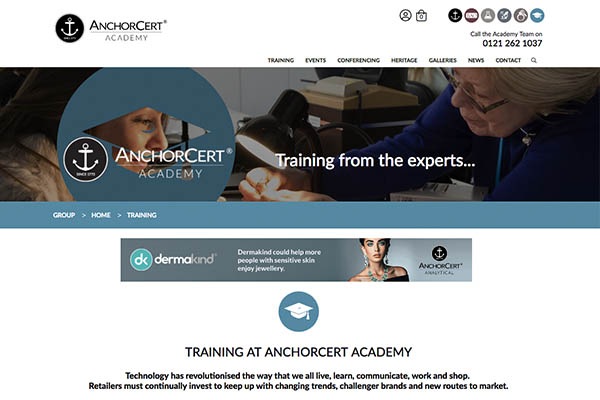 The AnchorCert Group continues to invest heavily in its training and education division as they launch a brand new website this week to support the AnchorCert Academy.
The new website has been designed to accommodate all services available from the Academy, with a clearer customer journey, more intuitive functionality and animated banners which will currently be used to promote other AnchorCert initiatives and divisions. It also has a new gallery section, where images of past Academy events can be viewed by the jewellery trade and general public – giving all a glimpse behind the scenes of the Assay Office.
Commenting on the new website, Director of Academy, Marion Wilson said: "The new website is just the start of our exciting refocus on digital. It's fantastic to have all of the Academy services and products available on one website. It's better for our customers and really reinforces just how much the Academy already contributes to the jewellery trade and beyond.
When we decided to start delivering courses under the banner of the Academy, we had no idea that it would be as successful as it had been. It has morphed into an operating division in its own right. Our focus, now that we have this fantastic foundation to build on, is to further engage with the trade and deliver training, education and entertainment – all of which we will be able to promote through our shiny new website."
The website has a new events section, which will promote Birmingham Assay Office events, both on-site at the Academy, as well as promoting their attendance at off-site exhibitions and conferences. The new events section will also promote all events held at the Academy, providing external organisers with another online promotional tool.
For more information on AnchorCert Academy, training courses, events or venue hire, visit www.anchorcertacademy.co.uk