Howard Levine, director of Diamnet, talks about the launch of his new laboratory-grown diamond jewellery collection – Hayes & Lake.
1. Can you give a brief background to Diamnet for anyone who may not know you? 
After spending my first 13 years in pearls, I spent the next 12 years in diamonds, mainly with H Chalfen, who were regarded as one of the best diamond jewellery manufacturers in the UK. A short two-year spell as UK director for a hugely successful (in the US) Indian manufacturing company taught me the opposite side of the diamond business, before returning to H Chalfen as managing director.
I have always tried to be innovative and look to how to improve things for my clients – from bringing out a D colour range of diamond jewellery called Candour before anyone else cottoned on the benefits (at the time) to releasing our app for the iPad 1 some 12 years ago. CH.APP, or Chalfen app, showed a list of available diamonds that could be combined with our designs so that our customers could quote for actual stones, even at the weekends.
It was the app that really led to Diamnet being formed in July 2017. I could see the power of the internet and how those that had embraced it has flourished. I wanted to bring that power to my customers. Bringing together an online listing of diamonds, combining the best suppliers around us and a select few from abroad just seemed so obvious. Diamnet has and always will be aimed at the needs of a retailer. Today that means helping them to be more competitive and freeing up their time to concentrate on finding and looking after their customers.
Diamnet has never tried to capture every supplier as it is not a benefit to our customers. By being selective we can trust each and every one of our suppliers and still manage to list over 250,000 diamonds, which is more than enough. Three years ago (before anyone else) I added a second listing for laboratory-grown diamonds. At first, the UK high street was not ready, but I knew it would become a massive benefit. Today we have relationships with suppliers and an understanding of the marketplace that few others can boast.
2. How have the past 12 months been for your business?
The past 12 months have been tremendous for us. Even though we all spent many months in lockdown we have managed to grow our business to a point where we are invoicing six times the amount we were two years ago.
3. You launched the Hayes & Lake brand at the CMJ Spring Trade Event. What is the concept behind this brand and why did you choose lab-grown?
Firstly, let me say that over the past year, more and more of my customers have been asking for a small collection of studs and pendants as a way to start with lab-grown diamonds. This led on to rings and I have seen sell through that I had not seen in years for natural mined diamonds.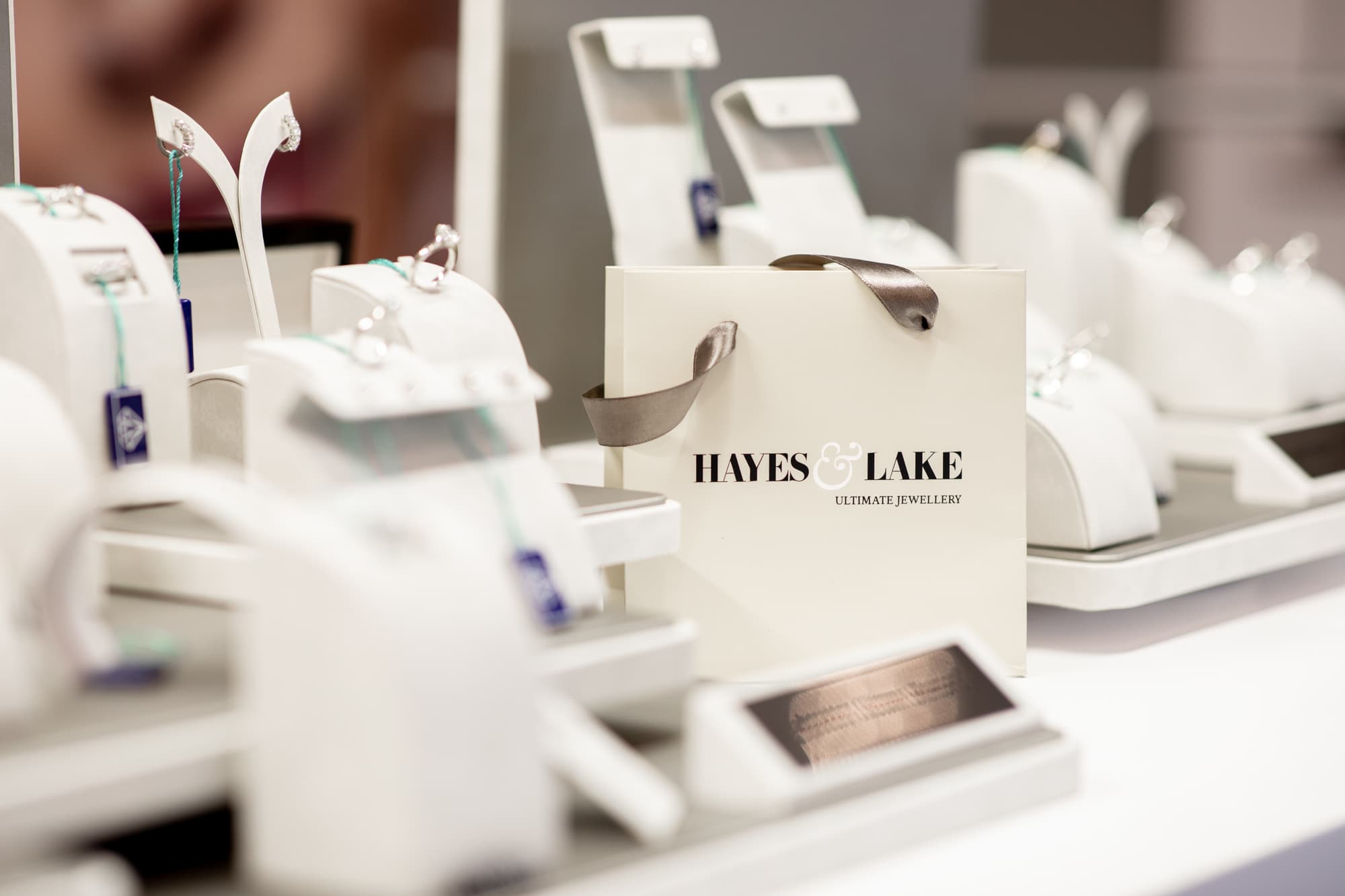 The Hayes & Lake brand is a combination of ideas I had been playing with for a very long time. Inspired by my sons, Hayes (aged 10) and Lake (aged 4), both IVF babies, I knew that retailers would eventually come around to understanding that lab-grown diamonds were still "real" diamonds, only grown in a lab. Combining the sell through I had already been achieving with the public's ever-growing appetite for ethical and sustainable product, lab-grown is the way to go. On a more practical level, I see a need to keep lab-grown diamonds differentiated from natural mined and branding is the best way to do that.     
The new brand also gave me a chance to embrace another idea. We used to produce 10 or 12 four-claw solitaire designs to sell just one, 80% of the time. This made stock holding a nightmare for us and for our retailers. I had seen how Casper had become a $200m company by making just one mattress. Why should I not follow suit? I wanted to make a range of only the best of the best: the best four-claw solitaire, the best trilogy, and so on. The Hayes & Lake branding/website is the perfect way to promote that concept.
4. How much do retailers have to invest for a starter pack? Do they have flexibility on the products they can choose?
We produce a suggested starter pack to encompass all the obvious pieces. This gives around 14 pieces for a buy in of just over £11,000. That is averaging only £785 per piece, and we include four 1ct diamonds in the set. I believe that the brand should stand for quality and so we have kept the suggestions to D/E colours and VS plus grades, but other grades are available and will bring the price down further if required.
There are bolt-on packs for popular products like ovals and other fancy shapes but everything is flexible. Not even the starter pack is set in stone. If the window display is required, the minimum number of pieces would be enough to make a great looking display.
5. Do you offer additional training to support the selling of lab-grown diamonds, or additional POS/info for consumers?
Training is essential and we will make sure every Hayes & Lake stockist knows how to capitalise on the brand to sell lab-grown diamonds without harming their natural mined diamond sales. We have produced a comprehensive set of collateral for the brand including window display, in-store display trays, carry bags, cleaning cloths, boxes for rings as well as for earrings and pendants. We have even created an authenticity card made of metal complete with its own branded box for each purchase and, of course, a website to show stockists. 
6. Diamnet was initially set up as a comprehensive online diamond list – how is that side of the business doing?
It is growing from strength to strength and proves a huge asset to our Hayes & Lake stockist.
7. Do you still offer the white-label/bridal website proposition for retailers? How does this work?
The white-label service is still running with big things plans to take that forward. The past two years running the service has given me great insight into what works and what doesn't but technically it has been challenging. Watch this space.
8. What do you believe sets you apart from your competitors?
The biggest thing that sets us apart from our competition is an unwavering dedication to looking at our business from our customers' viewpoint. We may run a web listing, but we still receive more requests on the phone or via email and WhatsApp. We are a very personal service and like to think of our customers as partners.
9. What sorts of retailer partners are you looking to work with?
With Hayes & Lake we are looking for retailers that understand there are sales to be made with lab-grown diamonds but wish to differentiate those from their natural mined diamond sales whilst still selling a quality product.
Our online diamond listing service should appeal to all independent retailers. Retailers are busy people. The busier they are the more we can help allowing them more time to concentrate on selling.
For more information on Diamnet or Hayes & Lake, contact Howard Levine on 07785 515155 or email howard@diamnet.co.uk.