Rachel Galley, owner, creative manager and head maker of Rachel Galley Jewellery, talks about the most important set of rings in her jewellery box.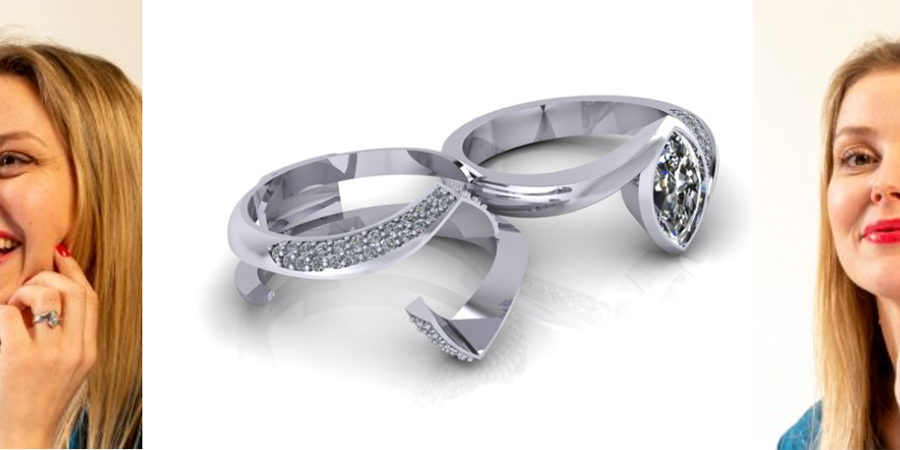 My perfect piece is my engagement and wedding ring. The ring came into my life when my son was two, so 2017. I was already working on my business and was focusing on a diamond collection for the Houlden group. My husband and I designed it together – he's in the jewellery business too so we did it together. It was nice but it took a while, as you can imagine.
For me jewellery always has to mean something. Whatever the story behind the piece is, it's got to be significant. Our son is called Valentino so we designed the ring with a marquise diamond and an interlocking band at the back. This created a V shape around the diamond. I wanted that sort of abstract initial in the design of the ring. You wouldn't think it was an initialised personal piece but it is.
From the very beginning I was thinking about the interlocking elements of the next ring, not just the first design. I've done a few commissions in the past with interlocking bands but I've never put them out there as something I do. I know a lot of people do fitted bands, but an interlocking band was something I knew I wanted. For that to happen, I had to design both my engagement and wedding ring at once.
The pressure of designing such a significant piece for not only myself, but also other women, is intense. I couldn't just pick a ring from someone else's collection – I am a designer after all!
People think it is unusual because most people have a round cut traditional ring, especially traditional couples like our parents. But more and more people are beginning to experiment with shapes and cuts.
It's everything I wanted it to be and more. Not many people notice the V shape so it adds an extra meaning to it. My ring is wearable, subtle, beautiful and elegant, and has a secret meaning just for me.
The Perfect Piece is a series of stories from CMJ members and staff about the pieces that mean the most to them.