Dominic Cuss, lifelong jeweller and owner of Henry Hallpike, tells us about a 100 year old watch that bears his family name.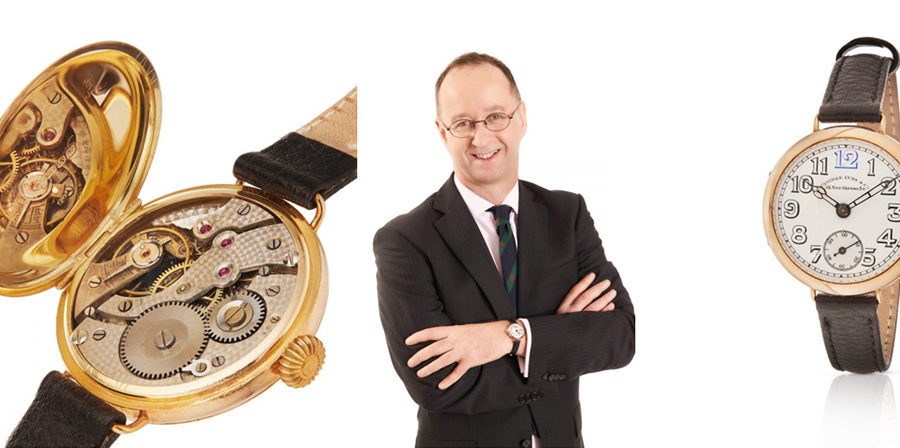 My perfect piece is a 20th century wristwatch that bears the name of my family's business, Camerer Cuss.
Back in the 1780s my family were farmers in the Black Forest. As a side business they started clock-making and began a partnership with the Kamerer's. Under the leadership of David Kuss the company thrived. The first Camerer Cuss shop opened in Shepherd's Bush in 1879. The names were changed to avoid the negative sentiment around German-sounding names at the start of the First World War.
The watch was most likely an officer's watch. It makes me extremely proud to know it was crafted for someone who had an extremely important job to do. In fact, I must say I am honoured to wear it now. It's incredible to think that people's lives depended on the timekeeping of it.
The craftsmanship is second to none. It was created at a time when intricacy was valued and machinery was limited. The undertaking of anything mechanical was painstaking, long-term work and the attention to detail is obvious when you look close enough. You can see it in the enamelled dial, the number 12 in blue. There was a level of intimacy to the build quality that is often missing today.
The last Camerer Cuss shop closed its doors in 2002. Now the Camerer Cuss name belongs to history, in all of the clocks and watches and mechanisms that still count away the seconds of our lives. I've become something of a collector in the intervening years. I have always found joy in hunting out the unusual and owning it. Now I get to do it whilst keeping my family name alive.
I have about 25 pieces of Camerer Cuss in my collection presently. The watch is the crown jewel. You can only imagine the things that clock-face has seen; loss; destruction; love, perhaps? My next problem is who to hand it down to when the time comes. It's my favourite piece of jewellery. It will be very hard to part with it.
The Perfect Piece is a series of stories from CMJ members and staff about the pieces that mean the most to them.