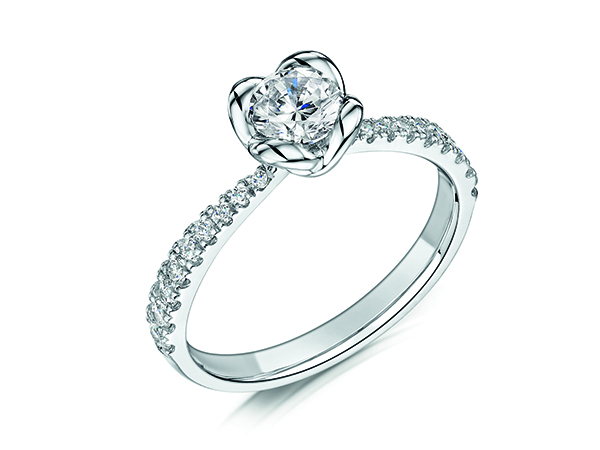 The Birmingham-based fine jewellery manufacturer experienced strong demand for its new Embrace bridal collection.
British casting specialist and fine jewellery manufacturer, Hockley Mint, is celebrating the success of its new Embrace collection at IJL 2019, especially pieces designed with a looping heart-shaped setting.
Customers were impressed by the new 150-piece bridal jewellery collection thanks to its competitive pricing and broad array of designs, including solitaire, halo and trilogy engagement rings, wedding bands and a matching selection of earrings and pendants.
Despite the overall success of the range, it was pieces designed with a looping heart-shaped setting that impressed Hockley Mint's retail partners the most. This setting can be seen across engagement rings with round brilliant, oval and cushion-cut diamonds, as well as matching four claw pendants and earrings.
Unusual design details, such as the angled placement of cushion-cut diamonds so corners alternate with a petal-shaped mount, were well-received by customers looking for something new.
Hockley Mint designer, Kirsty Brown, who developed the new collection, says: "The new Embrace collection was very carefully designed to suit the needs of retailers and we were thrilled with their response at IJL 2019. The heart-shaped setting we developed for pieces in this range is attractive in profile and from above, and captures some of the biggest trends in bridal, namely hearts, the infinity loop and petal shapes. The matching selection of pendants and earrings makes this offer an attractive engagement and bridal offer for our customers."
The Embrace collection is cost-effective for retailers, whilst offering a breadth of complementary wedding day and anniversary pieces for future gifting opportunities. Pieces require one-part casting, therefore reducing production times, and have been made with slimline bands to reduce precious metal weights and make prices more competitive.
Customers can also be confident in the knowledge that the new Embrace collection is manufactured and finished by Hockley Mint in Birmingham's Jewellery Quarter, making it a British-made product that isn't susceptible to exchange rates and currency fluctuations.
Elsewhere at IJL 2019, Hockley Mint was pleased to find its customers making stock orders for its full Initials range of diamond-set letter pendants. The new Pure Wedding Rings sample box, complete with refreshed branding and a new website, also secured new stockists at the event.
Hockley Mint managing director, Gary Wroe, adds: "We hosted a number of great meetings at IJL and the potential for future collaborations with new and existing clients appears extremely positive. Our new ranges were very well received by the industry and we look forward to developing more collections that are tightly aligned with the needs of retailers."
Since 2018, Hockley Mint has offered its entire Wedfit® collection fully finished with a choice of certified diamonds (across a range of different cuts and carats weights) or coloured gemstones. Pieces are designed, created and finished in the UK, eliminating the need to source and set stones elsewhere.