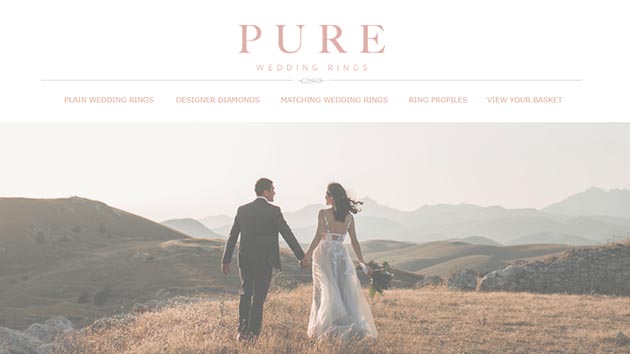 The British jewellery specialist's long-standing wedding ring brand has been completely revitalised and will be formally unveiled at International Jewellery London 2019.
British casting specialist and fine jewellery manufacturer, Hockley Mint, has relaunched its popular Pure Wedding Rings package with a new brand look, new wedding ring sample box and an updated customer-facing website.
The new Pure Wedding Rings sample box mirrors the much-loved format of the original, but with a more refined and luxurious feel to better complement the bridal retail environment. A new soft pink and grey colour scheme, as well as a darker box colour, have also been chosen to make the sample box aesthetically pleasing and hardwearing.
Inside, the new Pure Wedding Rings sample box offers a completely refreshed selection of plain wedding rings with white, yellow and rose gold finishes. Diamond-cut pattern samples are also included in the new Pure Wedding Rings sample box to highlight the many options Hockley Mint offers the end-consumer. In addition to plain wedding rings, the new package includes a bolstered selection of diamond-set wedding bands, centred on Hockley Mint's best-sellers at a variety of price points.
Hockley Mint managing director, Gary Wroe, says: "Our new Pure Wedding Rings package reflects the changing tastes of consumers with new plain and diamond-set designs that target the widest possible audience. The inclusion of diamond-cut pattern samples will support retailers when explaining the bespoke and customisable options available to their customers. Through the Pure Wedding Rings package, we believe retailers will be able to offer the personalisation and flexibility that couples crave in today's market."
The Birmingham Jewellery Quarter-based business first launched Pure Wedding Rings to support retailers and allow them to present the widest possible selection of wedding bands, without the prohibitive financial investment, to their customers. By offering its Pure Wedding Rings sample box as a complimentary sales tool, Hockley Mint has developed lasting partnerships with bridal retailers who continue to order year after year.
The Pure Wedding Rings website has also been updated to offer the same easy-to-use functionality, but with a more luxurious look-and-feel. This website can be used as a customer-facing sales tool in-store, allowing retailers to walk their clients through sample box designs and the customisable options available. Products can be viewed in different combinations of precious metals, carat weights and diamond qualities, with prices displayed with a mark-up specified by each individual retailer to suit their margins.
Further updates to the website allow retailers to add an order reference against each ring when placing orders online, as well as add special instructions such as engraving or diamond-cut patterns to suit the individual customer's needs.
Retailers can log-in to the website by visiting pureweddingrings.co.uk. Retailers can log-in to the website by visiting pureweddingrings.co.uk.