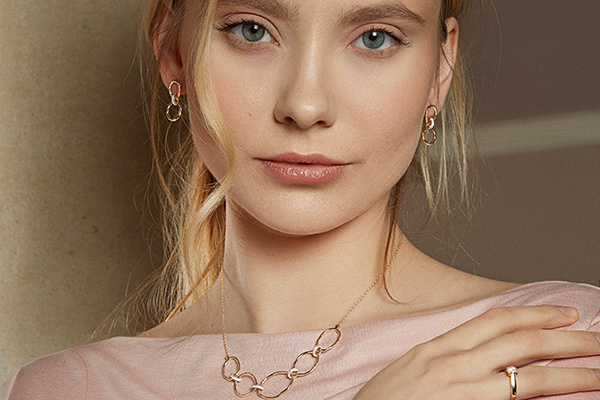 The newly refreshed Elements Gold has exceeded Gecko Jewellery expectations for summer sales, with the new range already 25% up year on year versus the same period in 2018.
The new collection, which was extended and revitalised, with a lot of changes driven directly by customer feedback, has only been available since June. The success has inspired Gecko to add a further 39 new lines to the range, just in time for International Jewellery London.
Commenting on the range's success, Creative Director Desiree Pringle, said: "Clearly we are always looking for sales increases when we launch or refresh a range. What has blown us away is the scale of the uplift; it's excellent testament to the power of customer feedback. Our customers had requested heavier pieces with higher diamond carat weights and a reflective increase in price points; we delivered this with this collection that had 140 new pieces – double our normal increase.
And our retailers responded accordingly, snapping up swathes of the collection and reordering ahead of their usual cycle. It made the addition of a further 39 pieces an easy one to make. We want to build on this current success, especially at a time when retailers are sharing that other suppliers are paring back and restricting their choice."
The new 39 pieces to be debuted at IJL will include gold version of the hugely successful Alphabet and Birthstones ranges; both collections responding to consumer demand for personalisation and layering or stacking jewellery.
Desiree added: "The attention to detail that our designers pay to trends and designs is paying off for both Gecko and most importantly, our customers. The Venetian Dream inspired Gold Elements collection is both beautiful and commercial. That's critical to the team and we will continue to seek ways to develop designs that make it easy for our customers to sell stock.
The newness element is absolute key for us too; we've introduced a record-breaking 220 new items into our gold ranges so far this year. We want to ensure that retailers can find pieces that reflect their brand and client audience, across all of our ranges."
Visit www.geckojewellery.com for more information.