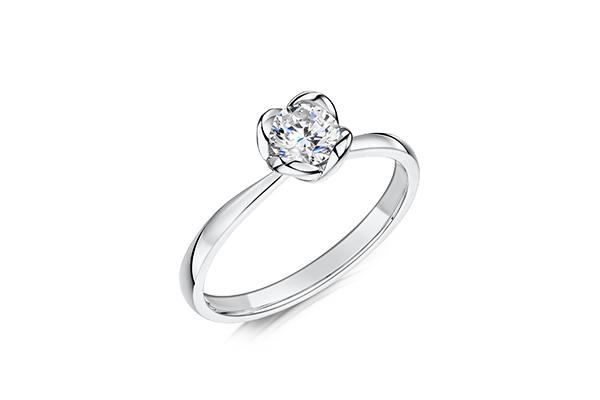 The new Embrace collection will be available fully finished with a choice of diamonds and precious gemstones from September 2019.
British casting specialist and fine jewellery manufacturer, Hockley Mint, has announced the launch of a significant new collection of engagement rings, wedding bands, stud earrings and pendants united by a new 'loop' setting.
The Embrace collection boasts close to 150-pieces, including more than 60 solitaire engagement ring profiles, 16 halo engagement ring designs, six wedding bands, and a matching selection of 30 earrings and 30 pendants.
Starting with a classic solitaire aesthetic, the Hockley Mint design team created a new setting inspired by a continuous, entwining loop. This motif appears across the range, ensuring all pieces are cohesive for wedding day jewellery suites or matching Wedfit® engagement ring and wedding bands.
Highlights include a broad selection of single stone, claw-set pendants and earrings with the loop setting, targeted at the wedding day jewellery and anniversary/gifting markets.
Hockley Mint designer, Kirsty Brown, who developed the new collection, says: "This new range was created to capture a sense of love and intimacy, while also bringing a more playful approach to our bridal jewellery offer. The graceful interlacing of the Embrace setting is symbolic of togetherness, which will allow our retail customers to share a romantic and timeless story with their clients. The natural fluidity of the loops adds dimension and detail to each piece without sacrificing the classic elements, as we know simplicity is favoured among the bridal jewellery market overall."
Solitaire diamonds and precious gemstones are available in the range from 0.33 carats up to 2-2.5 carats, depending upon the shape of stone. Customers can choose from round, princess, emerald, oval, cushion, Ascher, pear or marquise-cut diamonds, with matching plain and diamond-set wedding bands that can also be marketed as eternity rings or stacking rings.
The range is cost-orientated and has been carefully designed to offer the most accessible breadth of prices for retailers and their customers. For example, pieces require one-part casting, therefore reducing production times, and have been made with slimline bands to reduce precious metal weights and make prices more competitive.
Customers can also be confident in the knowledge that the new Embrace collection is manufactured and finished by Hockley Mint in Birmingham's Jewellery Quarter, making it a British-made product that does not sacrifice quality for cost.
Retailers will be able to view the entire offer in the new Hockley Mint Wedfit® catalogue, which will be released at this year's International Jewellery London.
Hockley Mint creative manager, Poppy Elder, says: "We are hugely excited about the new Embrace collection, which is cost-effective, diverse and flexible for our retail partners and their customers. By mixing-and-matching a selection of pieces from the range, retailers can create their own capsule collections for the Christmas sales period. However, if a customer asks for a specific diamond-cut or a coloured gemstone, retailers can be safe in the knowledge that we can fulfil their request right here in the Jewellery Quarter."
Hockley Mint will showcase the new Embrace collection, in addition to new fine jewellery ranges and its revamped Pure Wedding Rings package, at International Jewellery London (IJL) 2019, from September 2-4 at Olympia London. Find them on Stand D90.