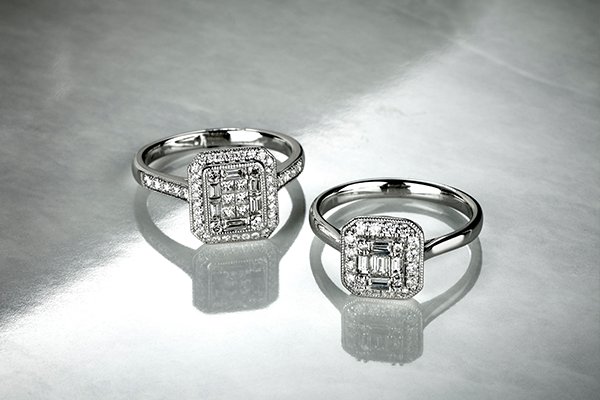 Fine jewellery brand Domino Jewellery has unveiled their latest contemporary bridal range, inspired by the popular art deco trend.
Available from the beginning of June, the new Empire range uses clustered diamonds to create an impactful look at very competitive consumer price points.
The new collection features 8 diamond set cluster designs, with baguette and round stones cleverly set to create the silhouette of different stone shapes including emerald and cushion cuts, delivering sparkle and beauty in a different way to traditional illusion settings.
Other designs use the baguette and round stones to create more edgy, art deco inspired, silhouettes.
Commenting on the new range, Creative Director Naomi Newton-Sherlock said: "We may still be experiencing economic uncertainty, however, couples are still celebrating engagements, marriages and commitments, even if they are managing and monitoring spend a little more closely.
"So, we wanted to create an entry-level collection that leans into the current trends for bold, unapologetically fierce jewellery that creates impact."
Carat weights vary from 0.50ct to 0.75ct across the range, but the innovative setting style provides a much larger look and delivers price points at a fraction of the price of traditional diamond-set pieces, with RRPs starting at £1,300. All pieces are available in 18ct white gold set with HSi diamonds.
The new collection will be available to order via Domino's website and to view with their sales representatives from the beginning of June.
More information on the new collection is available via www.dominojewellery.com or by calling the team on +44 (0)121 236 4772.