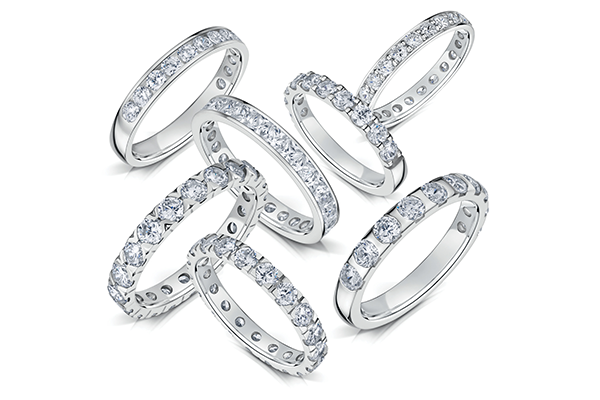 British fine jewellery manufacturer Hockley Mint is rolling out its latest diamond-set wedding ring collection, called Magnificent Seven, to retailers across the UK and Ireland in time for Christmas.
The Magnificent Seven collection is made up of seven different setting styles, all available in four widths and a carat weight from 0.12ct to 2ct. Each piece can be made in 9ct or 18ct gold, palladium or platinum, as well as Fairtrade gold, designed and manufactured in Birmingham's Jewellery Quarter.
The range is being offered to select retailers with supporting material to help market the products in-store, including free bespoke point-of-sale display and a deluxe package of 28 silver and cubic zirconia samples.
Poppy Elder, Creative Manager at Hockley Mint, said of the new range: "The bridal jewellery market remains strong at the moment, as does the trend for diamond-set wedding bands. This new collection seeks to support retailers by giving them the tools to make selling easier and more hands on. The response from retailers who have received the range so far has been fantastic, and we look forward to continuing to roll it out in the run up to Christmas."