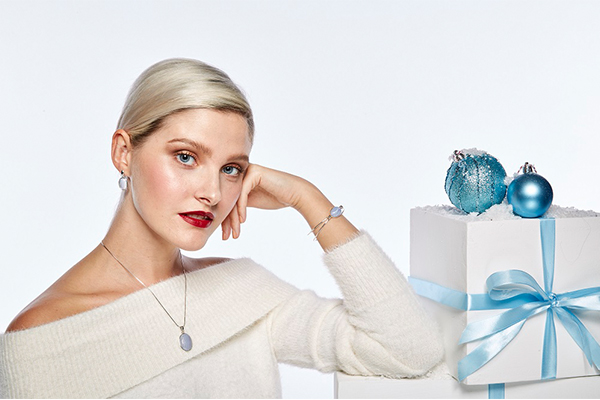 British jewellery brand Henryka has seen its Blue Lace Agate jewellery collection soar in popularity, prompting an expansion of the range for the festive sales period.
What started as a small facet of the best-selling Natural Stones collection will now be expanded into a 14-piece range, featuring earrings, bracelets, a ring and a variety of pendants. The complete offer will be available online, in-store and via some of the brand's retail partners by the end of November.
Highlights include the Blue Lace Agate Teardrop stud earrings and Small Round stud earrings (RRP £25), the Blue Lace Agate open bangle in silver (RRP £85), and the classic Blue Lace Agate Oval pendant in silver (RRP £85).
This icy-blue gemstone range follows in the footsteps of the Henryka Dalmatian Jasper offer, which includes sterling silver earrings, necklaces and bracelets in a range of geometric and organic shapes.
Both recent expansions point to the overwhelming success of the Henryka Natural Stones collection, first launched in April 2018, and incorporating onyx, striped flint, aventurine, quartz and howlite, among others.
The Blue Lace Agate range plays a starring role in Henryka's Christmas marketing, including its AW18 model photoshoot and e-commerce store.
Henryka director and founder, Anna Emmett, says: "This is yet more proof that customers are intrigued by unusual and under-utilised gemstone jewellery. We are thrilled to be expanding our Natural Stones collection, which now has three large capsule ranges under its umbrella – Striped Flint, Dalmatian Jasper and Blue Lace Agate.
"Customers want to tell a personal story with their jewellery and these gemstones, with their own unique stories, associations and mythologies, are the perfect way to do that."