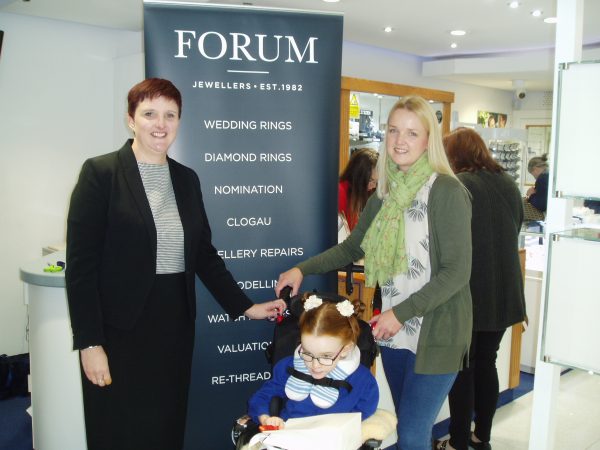 Dorset-based Forum Jewellers has hosted a successful 'Dine with Diamonds' charity event with the aim of raising money for local eight year-old Fern Harrison, who suffers from the rare Alexander disease, which affects her ability to walk and swallow.
The event, organised by the team at Forum Jewellers and held at Broadstone Golf Club, saw 82 guests enjoying a delicious buffet meal and finding out all about diamonds from expert & jewellery consultant, Helen Dimmick.
Dimmick commented about the event: "There was a buzz of excitement and anticipation in the air from the start, it was a privilege to meet Fern's family and all the lovely people of Broadstone, to share my passion for diamonds and to raise money for such a wonderful cause.
I was so thrilled with the response to the diamond talk, seeing a sea of engaged and interested listeners and sharing some hands-on knowledge afterwards.  So fabulous to bring wonderful diamonds and wonderful people together"
An astounding £1556.40 was raised at the event, which will be used towards buying Fern a Mollii suit, which is an electrical stimulation suit for the rehabilitation of spasticity which will make her movement easier and help her sleep. The money was raised through a large raffle of prizes donated by generous suppliers. The top prize of a diamond pendant worth £1,000 was won by Jenny Lewis.
Helen Molloy, Forum's Director added: "I was delighted when Helen Dimmick launched as a Jewellery Consultant.  Forum had just gone through the transition of losing Pandora and relaunching as Diamond Specialists.  I wanted to get this across to our customers and as soon as I knew Helen was consulting, I asked her to come and give our customers a talk on diamonds.  We created the  "Dine with Diamonds" event as we are always looking to give our customers something extra and this combined a unique evening with raising money for our chosen charity."
She continues: "With Helen also specialising in training, we used the time she was here to give all our staff a refresher and further expertise on diamonds.  This week has been amazing, not only are we all re-inspired by diamonds, but we've gained confidence and enthusiasm in selling.  Helen's passion for people and the jewellery industry is infectious and her willingness to share has given us such inspiration to transform our business that it has been money well spent."