Andre Michael is launching point-of-sale material specifically for lab-grown diamond jewellery, comprising a stand for 16 rings, as well as earrings, pendants and bracelets,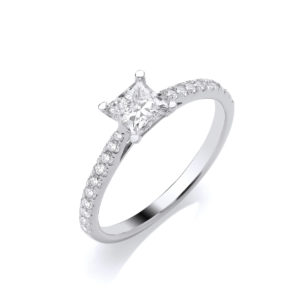 with a choice of imagery.
"With prices of lab-grown diamonds having fallen significantly – as low as £250 for a piece of lab-grown diamond jewellery – now has never been a better time to get involved in this area," said Andre Michael.
"The point of sale is a way for retailers to create room for certified lab-grown diamond jewellery in their shops, taking up a small amount of window space. Customers can then see a clearly separate space for lab-grown from natural diamond products. This is a way of resolving any concerns over risks of mixing up lab-grown and natural diamond products."
The UK market has seen a sharp growth in the provision of lab-grown jewellery in recent years, at lower price points than natural diamond jewellery.
Andre Michael is offering lab-grown diamond rings, earrings, pendants and bracelets in different shapes and will be exhibiting at our Company of Master Jewellers Autumn Trade Event in September.