Sales have always been, and will always be, a key focus within any retail business. However, the route to sales has changed dramatically over the past several years. With less footfall, more online research, and technology with social media and websites continually evolving, the customer journey is more complex than ever before. The importance of how you can set up your social media and what you can do on your social media platforms to create a smooth and successful route to sales for your customers is more important than ever before.
While this article focuses on practical steps for you to take, getting sales through social media requires more than a one-and-done approach. The data and success stories below are made up of one-time tasks, tasks that will have to be repeated, and tasks that will need to be thought through. We already know that our businesses' social media takes time, but by setting up the below and including a handful of the below into your daily habit, you can rest assured that you're doing what you can to convert your customers' browsing into a seamless sale.
How can you set up your social media to drive sales?
Make use of buttons and links
When you set up your Facebook page, you choose from a selection of button options on your company's page. The button can send your followers to various places from sign-up forms, buy-now pages, shop pages, website pages, videos, Facebook messages, WhatsApp messages and much more. It is also important to utilise links and buttons within your posts.
On Instagram, you only have one clickable link within your account's grid page. Another place on Instagram where you can share links is within your story. Even though Instagram stories are only available for 24 hours, they are still a great way for you to share clickable links with your customers. Any links shared within your posts aren't clickable, and your followers also won't be able to copy and paste them.
On Twitter, you have both a link within your profile and a clickable link within your posts. When using Twitter, it is important to remember how quickly the Twitter feed updates, as well as the 280-character limit. In the USA, the limit has now increased to 4,000 characters, but this currently isn't available in the UK.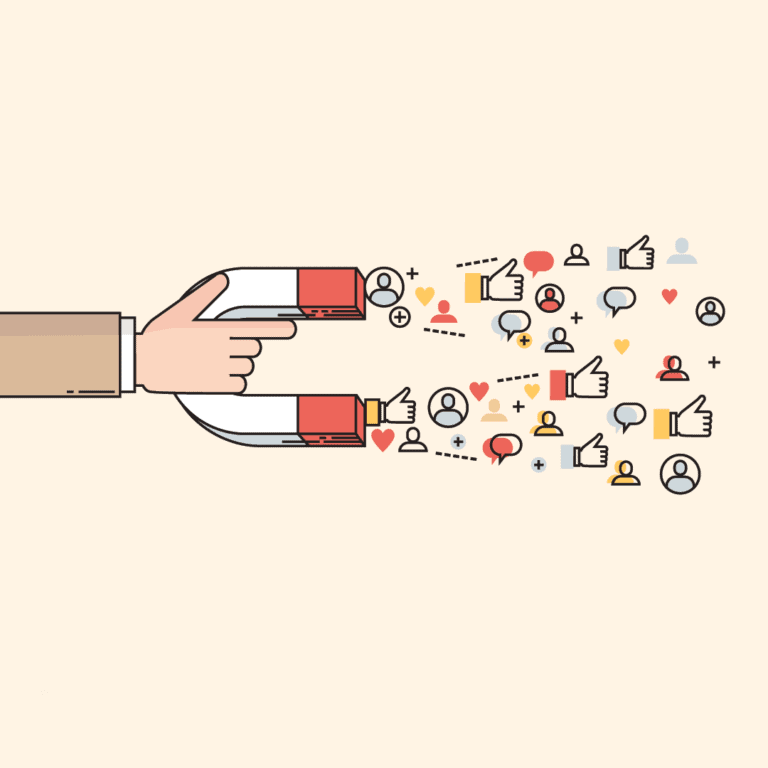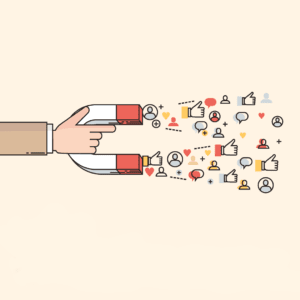 Turn on your notifications for the people that you want to interact with
When looking to build a relationship with your followers it is important to interact with the content that they are sharing. Turning on your notifications is one way to not only stay at the front of someone's mind but also help to educate them on what you have to offer. Utilising your notifications also means that you don't have to be on social media checking their pages or need to worry about missing their posts. Over time, this simple method supports you in creating strong relationships with your customers and community.
Similar to the benefits of notifications, Twitter has a feature called Twitter lists. This allows you to create public or private lists of accounts. These lists allow you to interact with just the accounts on your list, making sure that you don't miss their posts. Furthermore, as the lists can be public, other people can follow the people within your list as well, whereas the private lists, as suggested, can only be seen within your account.
Twitter lists serve lots of purposes, from making sure you're staying in front of your customers or your competition to staying up to date with industry knowledge or suppliers that you are using. Make sure to add the Company of Master Jewellers Twitter account (@The_CMJ) to your Twitter lists so you never miss a post, especially when it comes to our Spring and Autumn Trade Events.
As with social media notifications, you can set Google alarms for businesses, to track your competitors, products and keywords. Get started by opening Google Alerts, type in what you would like Google to track and you'll receive an alert when this business, industry or topic is shared on Google. Not only does this help you to see what your competitors are doing but it is a straightforward way to act directly with the data of what is happening within your industry. For more information on how to do this, follow the link here.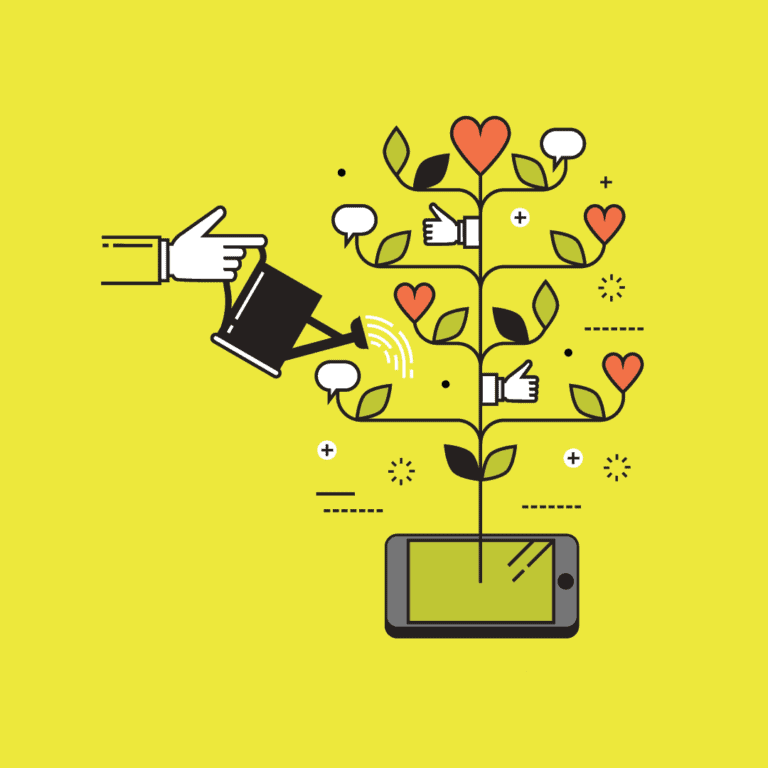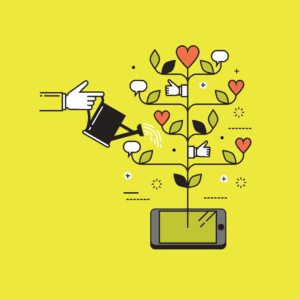 Count the clicks your customers would have to take to buy
When using social media for sales, it is important for your customer's route of sale to be straightforward. One way to track this is to count the number of clicks your customers make to get from a post that they have seen on their timeline to purchase. The lower the number of clicks the better. As we become more distracted with ever-growing restrictions on our time, it is becoming more and more important to make sales to be straightforward for your customers.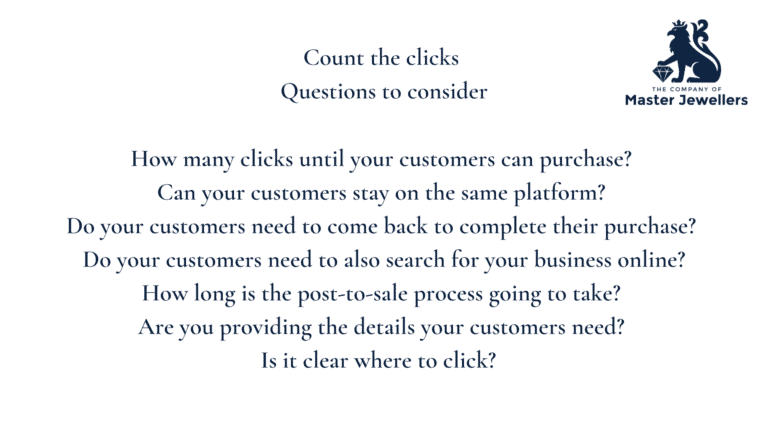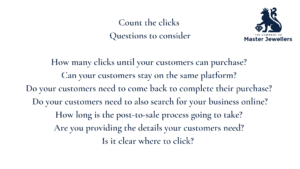 Take opportunities to listen, learn and ask great questions
As a Company of Master Jewellers retailer, you benefit from a free Lite account with social media expert Maybe* (usually costs £35/month). To sign up for your free account please click here. Your Maybe* membership includes free social media online drop-in sessions at 10 am Monday to Friday. These training sessions are run by the experts at Maybe*, who have a selection of training recorded, and ready to help you get started. Your account also gives you access to:
Easy-to-use social media management tools enable you to schedule your content across multiple platforms and respond to comments and mentions, all via your dashboard.
The ability to compare your social media performance to any of your competitors.
In-depth analytics to show you your best-performing content and identify where it is best to invest your time and money.
Access to hundreds of online training courses and guides – your opportunity to improve performance by asking experts for help.
Consistency on social media
It is equally important to have your social media platforms set up for sales as it is to stay consistent with your posting. Regular posting, whether a few times a week or several times a day, is important for your customers to see your content – find what works for you. It is very unlikely that customers will search your page and buy straight away from you, especially if they haven't already interacted with your business. Regular posting can be the start or continuation of awareness around your business, products and services. This is why social media scheduling tools, such as the one you can access via Maybe*, are so important. They allow you to create your posts or content in advance so that you can schedule them throughout the week. This overcomes both not posting at all or spending all your time on social media writing a post.

Set up your shopping tags on Instagram
Instagram offers a shopping tag feature, which allows your customers to buy products directly from your post on Instagram. When customers see your posts, they can click on the product tag, bringing up more information about the products on offer. It shows the price, description, product detail, delivery and returns and an About the Shop section as well as a link to a website. Within your post on Instagram, you'll see a View Shop banner at the bottom of your post. To use the shopping tag feature, your profile needs to be a business account, which you can change within your settings. For a step-by-step guide on how to set up your Instagram shopping tags, click here.
Set up your tag products for your Facebook account
Facebook also offers tag products, which are very similar to the Instagram shopping tag feature. This feature also shares the name, price and description of the products for your customers to find out more information. You need to set up your Facebook shop first. For more information on how to do this, follow the steps here.
There is no doubt that using social media as part of your customers' sale journey is something that makes sense. Social media is multi-faceted in how it supports businesses, from sharing the key messages about your business to the products and services that you sell, helping you to connect with current customers and providing an opportunity to connect with new customers. Social media can be a place to learn about your industry or how to improve your business and can help you find people that may not buy from you but who will always support and promote your business. It is therefore important to take full advantage of the tools that social media and online platforms have available.
Setting your profiles up for a smooth sales journey is only the beginning. Part two of social media and sales, looking at what to share on your social media to drive sales, is coming soon.