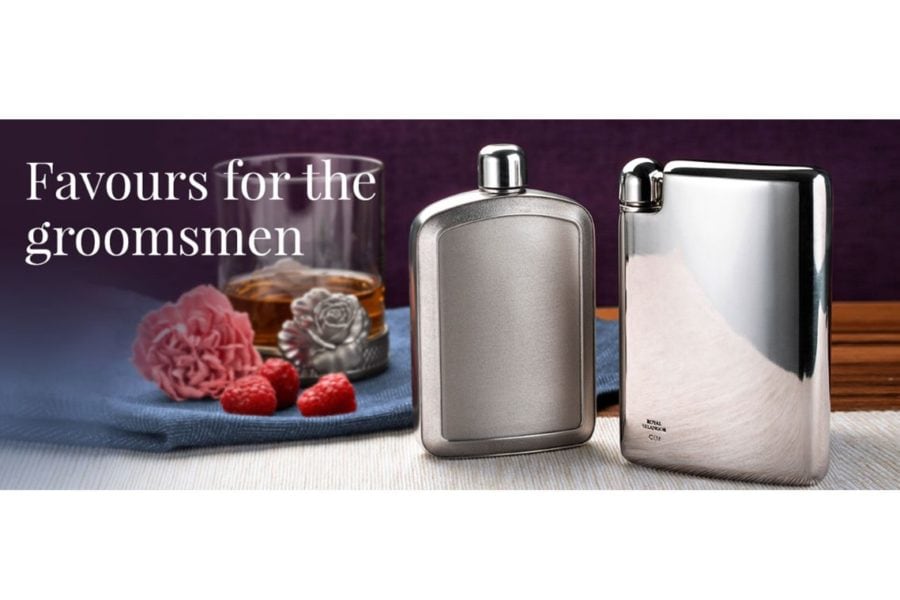 When it comes to wedding jewellery, the bride and groom naturally focus on wedding bands. However, amongst the madness, what often slips the minds of the upcoming newlyweds is bridal gifts for bridesmaids and groomsmen/ushers as a thank you for all their hard work helping plan the special day. 
Many couples leave purchasing their gifts until last minute however you could take the opportunity to upsell your gift collection whilst the couple are in for a wedding band appointment. Neglecting the opportunity to sell gifts for groomsmen/ushers could result in your customers shopping elsewhere or online for convenience, when you could offer them the full package in store.
CMJ supplier, Royal Selangor, has recently launched its 'Raise the Bar' campaign featuring its lifestyle and barware gift collection, perfect for saying thank you to the bridal/groomsmen party or for guests looking for a gift for the bride and groom. From hip flasks for groomsmen/ushers, to champagne flutes for bridesmaids, to barware for the newlyweds, the options are endless. Royal Selangor provides all retail partners with lovely imagery to use on your websites to promote these collections to your customers.
Check out its lifestyle collections below:
– Phonos
– Ink hip flasks
– Cosmos wine and champagne glasses
– Bar gifts
– Woodland bar gifts
– Vienna bar gifts
– Mallea bar gifts
– Frost bar gifts
For more information on any of these gift collections or to place an order, please contact Craig Skinner at craig.skinner@royalselangor.com.