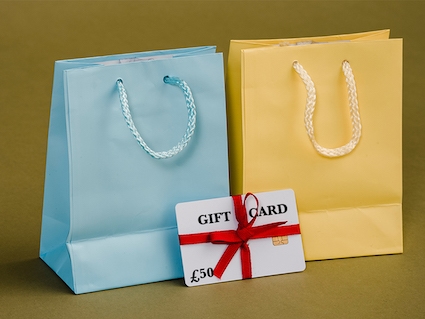 Adding an option of purchasing a gift card to your portfolio is a great way to maximise sales, both online and in-store. Gift cards can be used in voucher or card form, sold to consumers for gifting or personal use.
The Gift Card & Voucher Association (GCVA) data analysis from H2 of 2020 suggests that the gift card and voucher sector is resilient with overall rolling year growth of 4.6%, despite the ongoing impacts of the Covid-19 pandemic. According to the latest analysis by the GCVA and KPMG UK, digital and eVoucher sales grew by 49.7% on a rolling year basis. GlobalData research forecasts that by 2025, the market will have grown to £8.71 billion and that it is expected to increase at a compound annual growth rate (CAGR) of above 12 percent over the coming decade.
This data suggests that if you aren't already selling gift cards in your store, it could be something to consider as a way to increase sales and protect profits. Here are four ways in which gift cards can benefit your business:
Increasing awareness – by allowing your customers to purchase gift cards, this can increase the awareness of your brand/store. Gift cards are often sold to be gifted and therefore poses an opportunity for new customers to come into your store and make a purchase, giving you the opportunity to spark new relationships.


Customer loyalty – offering gift cards as an alternative to refunds, running gift card competitions or offering a gift card when upselling a purchase is a great way to ensure your customers to come back and spend in your store over your competition.


Easy and convenient for your customers – in today's busy, fast-paced world, convenience and ease of gifting is something that a lot of consumers are looking for – introducing an eGift card that consumers can purchase on your website and send directly to the recipient does just that. And with the option to redeem a gift online or in-store also allows ease of purchasing. Giving your customers the option to gift so easily online with the purchaser having the choice of gift is a great way to win over those convenience led customers. This also has the added benefit of driving traffic to your website.


Good way to manage returns and protect profits – According to First Data, 81% of customers are interested in store credit in the form of a gift card, therefore resulting in your profits being protected and the customer still purchasing products from your business.

Already offer gift cards in store? Tell us in the comments below how you promote your gift cards and what benefits they bring to your business. We would love to hear from you.