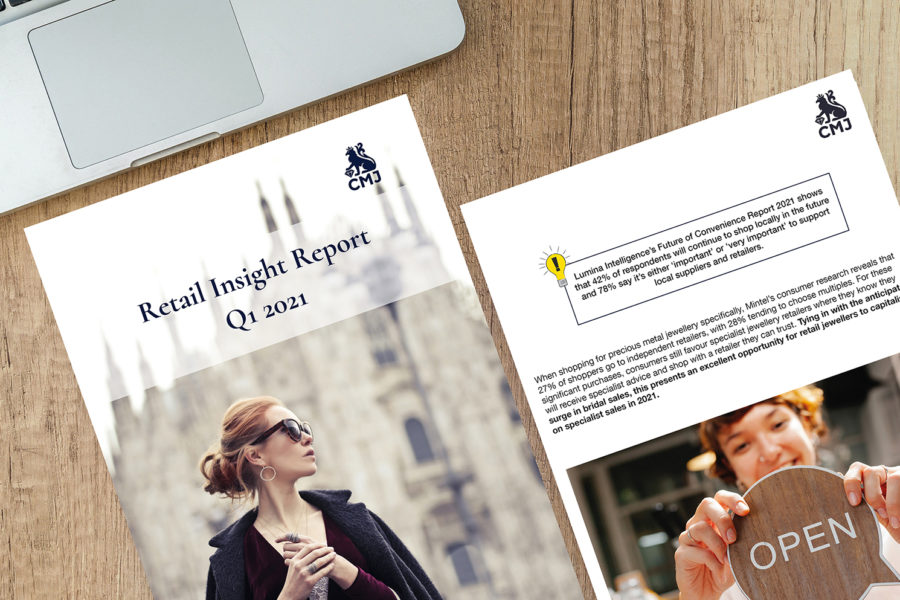 The Company of Master Jewellers (CMJ) has produced its first Retail Insights Report, which has been created and distributed exclusively to its retailer members this week.
The 28-page report collates information from a range of leading sources, such as Mintel, GfK and KPMG, in one easy-to-read and insightful document. It looks at what to expect from consumers' behaviour following the easing of lockdown, as well as what retailers can do to entice shoppers back to their stores.
Emmet Cummins, Managing Director of the CMJ, said: "The CMJ has three clear goals, and one is that we will embrace the belief that data is king, knowledge is power. We promised to seek relevant data and analyse the insights to drive performance within the CMJ and the membership – this is one of the ways we are doing this for our retailers.
"It's important to add that this report doesn't just go over what has already happened – everyone already knows what a tough 12 months it has been for the high street. This report will arm CMJ retailers with the knowledge to get their businesses set for the future, highlighting the key trends in retail and product – backed up by statistics from some of the leading research and analytical bodies. The aim of the report is to empower retailers and to support as well as challenge their business decisions to ensure they are in line with industry trends and information."
Peter Cheer, owner of Somerset retailer Studleys Jewellers in Wells and Leonard Couch Jewellers in Weston-super-Mare, said: "Concisely written and accurately describing the most important factors affecting 21st century business, the thoroughly researched and easily readable Retail Insight Report will be indispensable to every modern jewellery business."
The CMJ will publish these reports on a regular basis in order to keep its retailers up to date with the latest market insights. The buying group also launched a weekly Multiples Activity report last year, which keeps retailers informed of multiples' promotional activity on the high street so that they can stay one step ahead of their competitors.
This Report is one of the many benefits of CMJ membership.