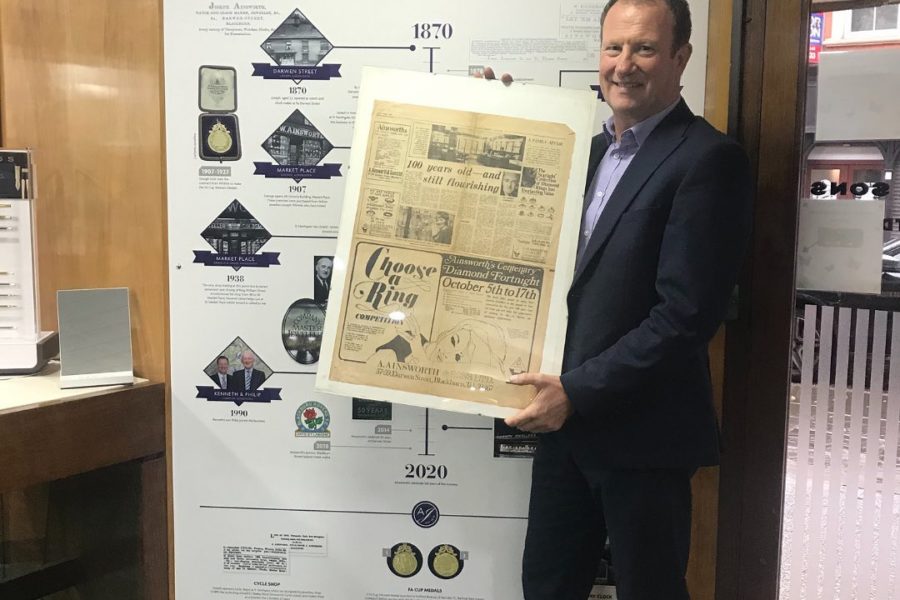 Ainsworth Jewellers is a business of 5 generations that is based in the heart of the Cathedral Quarter in Blackburn and this month celebrates its 150th year. 
The independent jewellery store boasts both a diamond exhibition and a museum to celebrate its great achievements over the last 150 years. 
Phil Ainsworth, Director of Ainsworth Jewellers and a member of the Board of Directors at the Company of Master Jewellers (CMJ) says "It feels an incredible achievement for the business to have lasted so long and it to still be within the family. Since we started promoting the fact that we have been in Blackburn for 150 years, our customers past and present, have both been delighted for us and have offered messages of congratulations and stories of purchases and repairs undertaken, which really makes being  a family independent retail  jewellery business worthwhile."
Founded in 1870, Ainsworth Jewellers is proud to have remained in Blackburn town centre since Joseph Ainsworth started J Ainsworth Clockmakers and Jewellers on Darwen Street.
In 1980, Ainsworth Jewellers became a member of the CMJ and in 2013 Phil Ainsworth became a Director on the CMJ Board and remains on the Board today. 
2015 saw the exciting development of its Diamond and Bridal Centre within the shop, where the customer can sit comfortably and browse from one of the largest collections of wedding rings available in Blackburn.
2020 has been a year of uncertainty for the retail and jewellery industry, however Ainsworth Jewellers has gone from strength to strength as it entered its 150th year of trading. This year, Ainsworth Jewellers started a new chapter and introduced Helen Dimmick to its team, an award winning gemologist that has now relocated her business to Blackburn and is taking appointments as the new Diamond and Jewellery Specialist. 
Follow Ainsworth Jewellers on Instagram, Facebook or Twitter or visit the website here.