Amber Saunders, CMJ Membership Development Executive, tells us about a bespoke pendant her husband designed for her to celebrate their 10th wedding anniversary.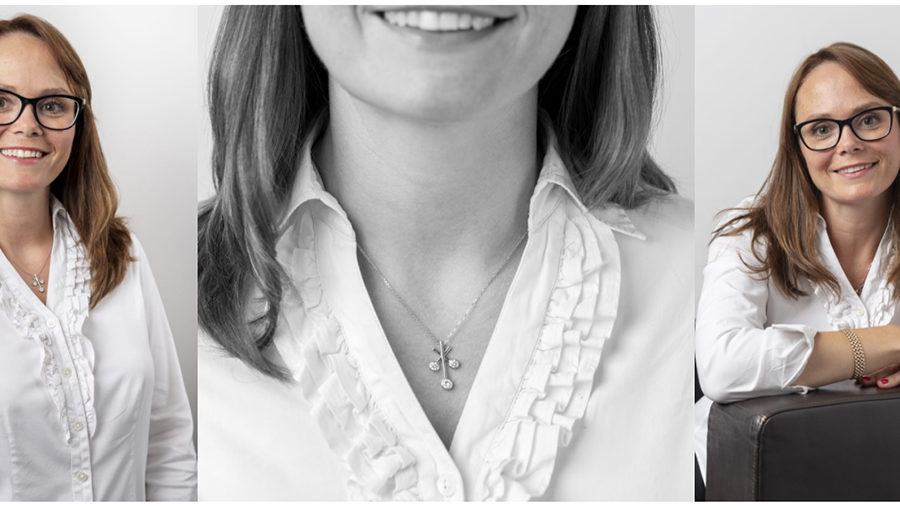 My perfect piece is a three brilliant cut stone diamond pendant, set into 18ct white gold. It was given to me by my husband to celebrate our 10th wedding anniversary.
My husband designed it, he's a police officer with no background in jewellery but he's always been creative. He drew five or six sketches and went to our local wine bar in our village green to show the designs to the people who were out that night. There was one clear winner.
When he gave it to me I started crying, I was overcome with emotion – I just couldn't believe it.
The three diamonds symbolise me and our two daughters. Our eldest is Harriet, 10, and our youngest is Verity, who will be turning seven soon. The girls absolutely love it, they love anything sparkly but this piece means a lot to them. The biggest problem I am going to have is that I don't know who is going to get it when it's handed down.
Every time I put it on I am reminded of what a special gift it is. It reminds me how lucky I am to have the girls and my husband. Everyone strives for better in their lives but when you get to the crux of the matter, family is the key to everything.
We've been together 22 years, ever since I was 17 and he was 21. My father was a retailer jeweller, starting on the bench in Hatton Garden years ago. When my dad still had the business, my husband used to come and help out at his shop.
My pendant isn't the first thing my husband has designed. He also created my engagement ring and my dad made it. Having been together for so many years now it has probably helped him get to know what I like and what I don't.
The beauty of something that's bespoke is being able to put a big emotional element into it and knowing that it's unique – something that nobody else will have. My husband was lucky he knew people in the industry. Knowing who you are going to get a piece made by is key – can they execute it well and bring it to life? My husband said the pendant looks even better than his designs.
I believe he was planning it for a good six months before. He's very organised, he wouldn't have wanted to leave it to chance. He wanted it to be handmade and had to factor manufacturing time in, he had to get his thinking cap on well before our anniversary.
Amber's pendant was designed by her husband Scott Saunders and manufactured by Emdico.
The Perfect Piece is a series of stories from CMJ members and staff about the pieces that mean the most to them.