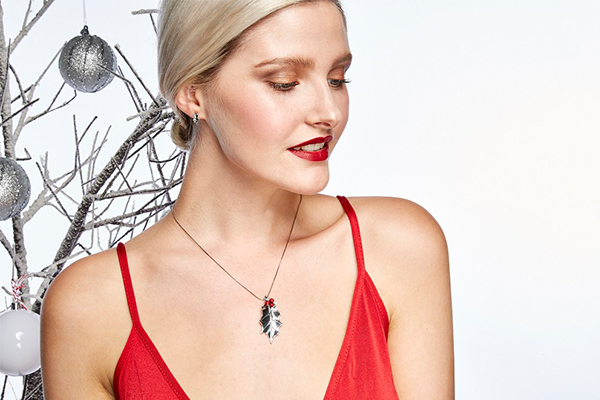 British jewellery brand Henryka has experienced unexpected demand for its novelty festive jewellery items, with its customers and retail partners selecting more eccentric pieces in the lead-up to Christmas Day.
Within the Christmas collection are four festive families: Mistletoe, Holly Leaf, Snowflake and Robin. Highlights include the Kiss Me Under the Mistletoe hook earrings in silver (RRP £55), the Boughs of Holly necklace in silver with red berry beads (RRP £95) and the glamorous Let it Snow Snowflake earrings in silver (RRP £45).
The newest additions in the Robin family include sterling silver designs with simulated coral accents. Prices start from RRP £25 for the Miniature Robin stud earrings and rise to RRP £85 for the Robin brooch and matching necklace.
Henryka has seen its sales increase by 70% in the latter half of 2018 compared to the same period in 2017, with many retailers adding the Christmas collection to their existing lines. Online sales have also increased thanks to the brand's revamped website and lifestyle images.
Sales manager, Hollie Francis, says: "Since the soft launch of our Christmas collection last year, we have seen an increased demand for 'novelty' but still precious jewellery at an affordable price. We have now expanded the collection to include Snowflake and Robin stud earrings, to offer those tempting price points for last-minute gifting."
The festive season also spotlights Henryka's successful e-commerce website, where a dedicated 'Christmas Shop' tab provides easy access to its full Christmas collection and a range of gift guides, arranged by gender and price-point.
Retailers interested in trialling Henryka's Christmas-themed range have until Thursday 20th December to make their orders and receive them in time for the last shopping weekend on 22nd and 23rd December.