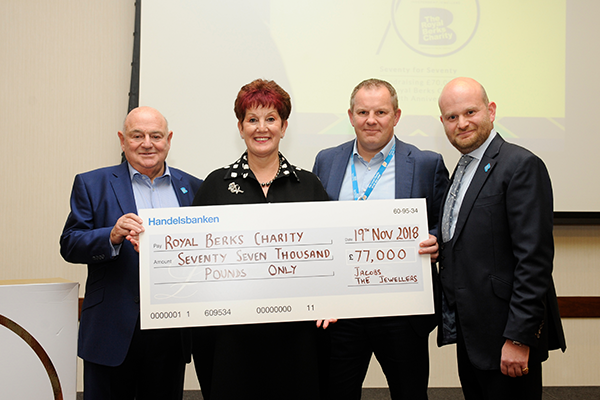 Reading-based independent Jacobs the Jewellers has beaten their initial fundraising target of £70,000, as the team revealed the impressive total of £77,000 at their glittering annual Christmas Jewellery and Watch Showcase event.
Back in November 2017 the jewellers revealed their fundraising aim to raise £70,000 for the Royal Berkshire Hospital's Berkshire Cancer Centre, titled 'Seventy for Seventy', as part of their 70th anniversary celebrations.
The team have taken part in a whole range of activities to raise money including co-owner Adam Jacobs skydiving with 4 customers from 10,000 ft! The shop also sponsored and supported both the Royal Berks Charity Soapbox Derby and Golf days. In keeping with showcasing the jewellery craft, 7 unique pieces of jewellery were created in 2018 with inspiration from 7 decades of style such as Art Deco or the 70s. When sold, a proportion has been donated to the Charity. The cornerstone event took place in early October when 250 guests joined the Jacobs team for a gala black-tie ball. The full program was generously supported locally by other local businesses who provided prizes for 4 raffle draws over the year, tickets being sold in store and at 'Pop Up' venues in 2018.
The £77,000 is a minimum amount as further events are still in progress. All proceeds from the Seventy for Seventy program are going to the Royal Berkshire Hospital Charity's Cancer centre to purchase cutting edge equipment for Surface Guided Radiotherapy treatment.
Adam Jacobs, co-owner commented "It's been an amazing year for us. Our birthday celebrations have sparked so much interest and enthusiasm -we're grateful to our customers, team and suppliers for all their support. We won Reading's Retailer of the Year back in September – I thought it would be hard to top but knowing we've raised over our target does it! During the course of the year, we've heard from many customers who have been diagnosed or undergoing treatment with Cancer – it really hits home how we can make a difference."
Steve McManus, CEO of Royal Berkshire Hospital NHS Foundation Trust said "This is a phenomenal amount of money raised by a phenomenal local business. The whole team aim to provide world-class healthcare and we couldn't achieve it without the local community's help. Our thanks now, and in the future, are heartfelt. We wish them, and the NHS, another 70 years in fine health!"