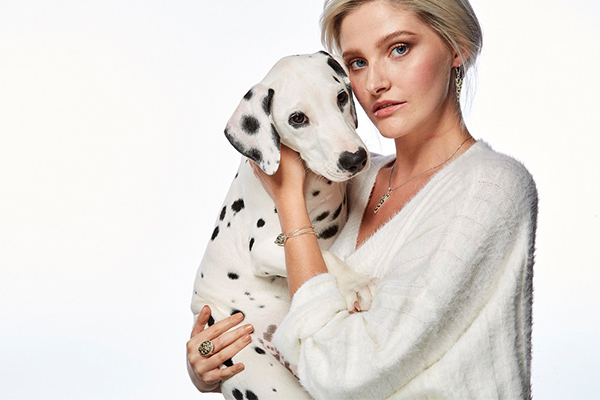 British jeweller brand Henryka has added to its popular Natural Stones collection with a contemporary range of Dalmatian jasper jewellery.
The six-piece collection includes specially-selected Dalmatian jasper gemstones set in sterling silver earrings and necklaces.
Each design showcases a new, geometric-inspired style for Henryka, including square, circle and triangular shapes that can be mixed-and-matched with existing Natural Stones pieces, featuring agate, onyx, striped flint, aventurine and quartz among others.
Highlights include the Dalmatian Square earrings (RRP £85), the matching Dalmatian Triangle necklace and earrings (RRP £75 and £85, respectively) and the Dalmatian Stone stud earrings (RRP £35). The range also includes an oval-shaped Dalmatian Stone necklace (RRP £85), which mirrors the pendants available in the wider Natural Stones collection.
To promote the range, Henryka devoted a portion of its recent AW18 model and lifestyle photoshoot to the new designs.
Speaking on the new collection, Henryka director and founder, Anna Emmett, says: "Our customers increasingly recognise us as their go-to source for unusual natural gemstones set in contemporary silver designs. Henryka marketing materials, social media and images help to bring the pieces to life and explain the mystical meaning behind each gemstone, allowing us to capture the customer's imagination. We are thrilled with the new Dalmatian jasper range and the accompanying images."
The Henryka Natural Stones collection was first launched in April 2018 to offer customers unique and under-utilised gemstones. As well as the new Dalmatian Jasper capsule collection, the brand offers a Striped Flint capsule range including a cuff bracelet, earrings, pendants and a ring.