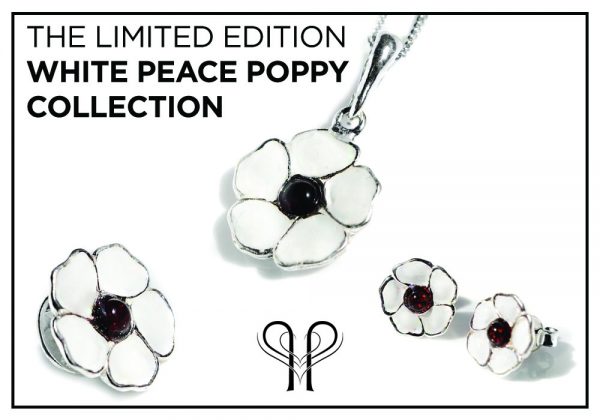 British jewellery brand Henryka has launched its Limited Edition White Peace Poppy collection to mark International Day of Peace on Friday, September 21 2018.
The three-piece commemorative collection includes a pair of stud earrings, a necklace and a pin, crafted in sterling silver and accented with hand-painted white enamel petals and cherry amber cabochons. Prices for all three White Peace Poppy designs are RRP £45.00.
Henryka founder, Anna Emmett, says: "Recognising charities, milestones and international awareness days is incredibly important to Henryka, and we expect this new limited-edition collection to perform well among our customers. Our desire to give back is only getting stronger as our business grows, and more retailers join the Henryka family."
International Day of Peace is a United Nations sanctioned holiday, observed annually by all UN Member States. This year's theme is a celebration of the 70th anniversary of the Universal Declaration of Human Rights, which was formally adopted by the United Nations General Assembly in Paris on December 10, 1948.