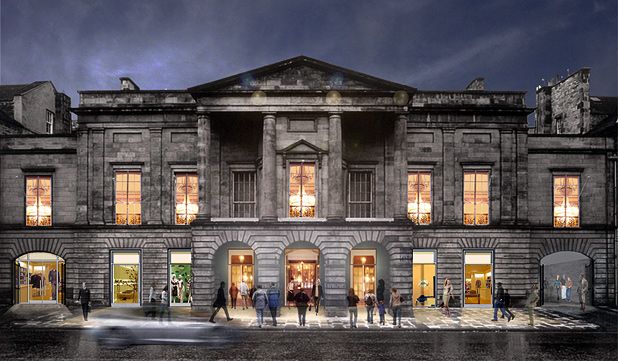 Jewellery retailers, designers and suppliers are being invited to attend Goldflair, an exclusive evening event and celebration of responsible jewellery, which will take place for the first time this year in Edinburgh's historic Assembly Rooms on Friday 23 November 2018.
Tickets are on sale now for the black-tie ball, which is being organised by Ian Nicholson, jeweller, silversmith and managing director of Edinburgh's Precious Metals Workshop, and is sponsored by Scottish luxury jewellery house Hamilton & Inches.
As well as celebrating responsible practices in the jewellery industry, the evening will raise money for Fairtrade, Fairmined and the Dragonfly Initiative's artisanal mining programmes to help improve the working conditions of artisanal mining communities.
Guests on the night will be greeted with a champagne reception, where six responsible jewellers who are licensees of Fairmined and/or Fairtrade will be displaying and selling their collections and four responsible gem dealers will be displaying their traceable collections of gemstones. Hamilton & Inches will also be showcasing its own new Scottish gold collection at the event.
A grand three-course dinner will then take place, during which time guests will hear from a selection of speakers about ethical issues in the jewellery industry and have the opportunity to bid for exclusive prizes via a silent raffle and after-dinner auction. The evening will end its celebrations with live entertainment including a ceilidh band.
Goldflair is the culmination of a project called Going for Gold, which has been funded by the Scottish Goldsmiths Trust and has seen Nicholson visit gold mines in Colombia, Uganda and Scotland in order to raise awareness of the exploitation issues in artisanal mining and to encourage positive change in sourcing responsibly and giving back to mining communities.
Nicholson said of his decision to launch the first-of-its-kind Goldflair event: "I have seen first-hand the conditions that our gold is sourced in developing countries and there is extreme poverty with no other options but to dig in the dirt for as little as £1 a day's wage. However, I am optimistic with organisations such as Fairtrade, Fairmined and the Dragonfly Initiative helping from the first step in artisanal mining.
"There is growing strength in the responsible jewellery movement and the UK is leading the way with our ethical symposiums, events like Goldflair and the fabulous traceable Scottish Gold. It is now that businesses need to come together under a united responsible banner and do what we can to minimise the exploitation issues that exist in our supply chains. Goldflair won't change this overnight, but it will help to continue to address these issues, keep the conversation alive, bring a positive change and give back to those who need it most."
Tickets for Goldflair are now on sale, with individual and corporate packages available. For more information about attending or sponsoring the event, visit www.goldflair.co.uk.